Belize
Projects in Belize
Health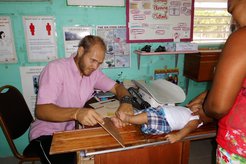 Volunteers promote health education in rural communities where resources are scarce and focuses on the areas of maternal, neo-natal, and child health and chronic non-communicable disease. Volunteers serve as catalysts to promote a wide range of activities, limited only by the creativity of Volunteers, health counterparts, and the community.
As a Volunteer you will be working toward achieving goals that support host country priorities, complement a national health strategy, and outline the Peace Corps' specific grassroots role in that strategy. Volunteers work to increase access to health information and skills development for community members.
Volunteers are primarily partnered with community health workers and school principals, but may find themselves alongside other health and educational professionals in rural and remote villages.