The Peace Corps Virtual Service Pilot
Responding to the call to expand opportunities for service
Peace Corps has been testing the feasibility of virtual service with great success.
---
Jump to:
---
Overview
Since October 2020, 100 Virtual Service Pilot Participants (VSPPs) have engaged in virtual service in 20 countries. VSPPs and their Host Country Partners report high levels of accomplishment and satisfaction which has prompted Peace Corps to create more opportunities.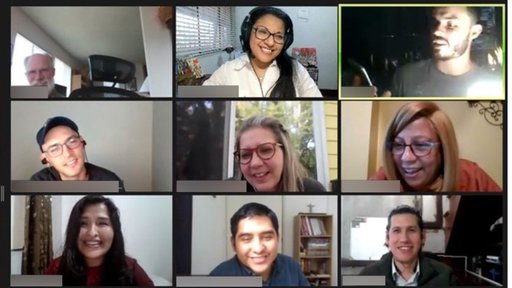 The Virtual Service Pilot (VSP) is a distinct opportunity. Participants in the VSP are not Peace Corps Volunteers or Peace Corps Response Volunteers; rather VSPPs are private citizens who donate their time by engaging virtually to contribute to the mission of the Peace Corps as private citizens while maintaining other commitments such as work or school. VSPPs spend 5-15 hours per week collaborating with Host Country Counterparts on specific tasks identified by the Host Country Partner and Peace Corps Overseas Staff. Through virtual service, VSPPs have the opportunity to advance the mission of Peace Corps through meaningful, virtual engagement.
The Peace Corps is excited to offer this opportunity to connect Returned Peace Corps Volunteers with their former countries of service.
Press release: Evacuated Volunteers Participate in Virtual Service Pilot
---
Eligible participants
The Peace Corps is extending the opportunity to join the VSP to RPCVs from participating posts. RPCVs who served in these posts will receive an email with opportunities offered in their former country of service and instructions on how to express interest in participating. Assignments will focus on needs as identified by Host Country Partners in coordination with Peace Corps staff.
---
Current opportunities
Guyana
Malawi
Rwanda
---
Virtual service has proven how powerful human connections are – even those made over great distances and many time zones – and how much can be accomplished when we challenge the status quo.

Carol Spahn, Acting Director of the Peace Corps
---
FAQs
Are all current Peace Corps posts participating in the Virtual Service Pilot?
No. At this time, the following posts have current requests for support from VSPPs: Armenia, Botswana, Cameroon, Colombia, Costa Rica, Eastern Caribbean, Ecuador, Eswatini, Ethiopia, Georgia, Guatemala, Guyana, Kenya, Kyrgyz Republic, Mexico, Morocco, Namibia, Nepal, Paraguay, Peru, Philippines, Rwanda, Senegal, South Africa, Uganda. Opportunities to participate have been shared with RPCVs from these countries. The selection process is underway and final post participation will be confirmed in the upcoming weeks. Peace Corps Kosovo and Peace Corps Ukraine are participating currently, but at this time there are no opportunities for new participants to join in the next phase.
Is the Virtual Service Pilot the same as Peace Corps Volunteer service?
No. Virtual service is distinct from Peace Corps Volunteer service and Peace Corps Response service. VSPPs contribute to the mission of the Peace Corps as private citizens who donate their voluntary services while maintaining their other commitments such as work and school.
What is the expected time commitment for VSPPs?
Virtual service engagements for the next phase of VSP will occur between June and December 2021 and are between three months and six months long, depending on the request of the Host Country Partner. Your engagement will be approximately 5-15 hours per week. VSPPs and Host Country Counterparts will identify mutually agreeable meeting times given the difference in their respective time zones and schedules.
How do VSPPs engage with their counterparts?
In developing Virtual Service engagements, Peace Corps staff confirm that Host Country Partners have consistent access to a computer, internet, and/or a mobile phone and are comfortable engaging in a virtual setting. Navigating time zones and schedules can be a challenge. Past participants exercised flexibility and found creative ways to connect with their Host Country Counterparts. This included using messaging and video platforms, email, and phone calls. Discussing these potential challenges and establishing regular check-in times with your Host Country Counterpart at the beginning of the engagement were identified as best practices.
What activities do VSPPs engage in?
VSPPs engage in activities that span the agency's six program areas: education, health, youth development, agriculture, environment, and community economic development. VSPPs and Host Country Partners may also choose to celebrate local holidays and exchange cultural traditions which contribute to deepening relationships and fostering important parts of the Peace Corps mission.
What are the benefits for VSPPs?
Participating in the pilot is a unique opportunity. VSPPs may potentially pave the way for future participants. Through virtual service, VSPPs will gain more experience with overseas organizations and continue as private citizens to support the mission and goals of the Peace Corps.
Are VSPPs provided with an allowance?
The Peace Corps will provide a one-time amount of $250 per twelve weeks of engagement to VSPPs to cover costs (such as internet connectivity, phone charges) directly associated with engaging virtually.