Peace Corps and the National Park Service
I'm Ruby Stanmyer, and I was Peace Corps Volunteer in Paraguay in 2014-2016. I worked in the Environmental Conservation sector, mainly in environmental education within and outside of the actual education system
I returned to the United States in February 2017 and, like most recent returned Peace Corps Volunteers (RPCVs), struggled to begin the arduous job hunt process. I initially limited my job search to positions on the east coast, but luckily decided to send my resume and Description of Service (DOS) to the head of the interpretation division at a national park in Northern California, where they were hiring seasonal park guides. The supervisor of the division also was an RPCV and enjoyed recruiting recent RPCVs with the non-competitive eligibility status (NCE) as it both shortened and streamlined the hiring process. Simultaneously, I was also applying to a number of environmental organizations in the northeast and received a few in-person interviews the same week I interviewed for the park guide position with Lassen Volcanic National Park. By the end of the week, I ended up accepting the job that I did not even mean to apply for in the first place. After two and a half years in South America, working one of the most untraditional jobs imaginable, the idea of taking a job that put me behind a desk Monday-Friday, in the middle of a large city, making little more than minimum wage was more than slightly terrifying. So, two months later, I found myself on a plane to San Francisco and then on a four hour car ride northwest to Lassen Volcanic National Park.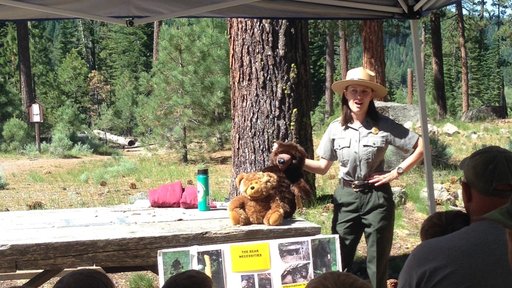 It's remote here. There is no cell phone reception, the internet is spotty and slow at best, my cabin is small and simple, I did not know anybody upon arrival, I do not have a car, and I only was able to pack the bare essentials. It felt just about perfect. I marveled at my shower, the fact that I had hot water in my sink, my full oven and big refrigerator, and most importantly, I had heat! As I recently finished the training and orientation period and have begun to work my normal schedule, I have started to see how well Peace Corps has prepared me for this type of job and why I think RPCVs make the best National Park Service (NPS) employees. No place seems remote and lonely after you have survived 2+ years in a typically very poor, isolated, foreign country. And even though it is a little overwhelming to be expected to be somewhat of an expert in a brand new place, it cannot really compare after you previously were expected to fully integrate into a country whose language you do not even speak.
As the summer season has gotten underway, we have started with our summer programs. As a park guide in the interpretation division, I will be leading three different programs weekly, all about the natural or cultural resources at the park. It did not really occur to me to be too nervous about this. I had after all, done countless presentations, camps, and lectures in Paraguay, usually in a combination of two or three different languages, none of which were English. My first program occurred during a "heat wave" and it was almost 90 degrees when I was about to start. I was standing in the sun and started sweating while I was still setting up my table of props and notes, but it hardly bothered me at all. I had a brief flashback to my first year in Paraguay, attempting to teach a class of 30+ seventh grade students in the 90-100 degree heat and humidity on the importance of composting, all while speaking in broken Jopara (the mixture of Spanish and Guaraní that most Paraguayans speak), while also trying to throw in some Portuguese for the benefit of the many Brazilian students in my class. Talking to a group of 15 attentive visitors about the wildlife in Northern California, in English no less, is way less daunting after having survived the Paraguayan educational system along with the extreme heat.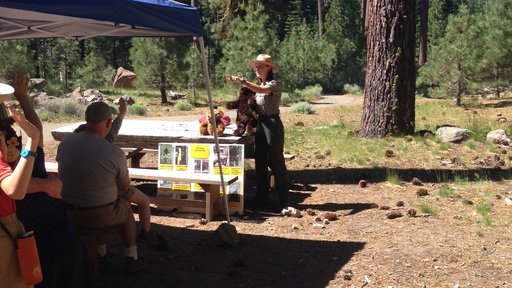 Another facet of working for the National Park Service is that most seasonal positions are 3-6 months long. Although I was a little sad to be leaving my family behind on the east coast yet again, even 6 months seems like no time at all after facing and overcoming a 2 + year commitment with the Peace Corps. I am not sure whether I will able to work for the NPS for many years to come, or whether it will be a brief one or two season experience. Either way, it has already served as a great transition for me post PC. It is helping me readjust to the "real world" and to working normal hours yet again, all while actually getting paid, doing something cool in a beautiful place, and getting reacquainted with the USA.