Grassroot Soccer in Paraguay
Grassroot Soccer, or "Raices Fuertes", is a program that teaches about HIV prevention, youth leadership and gender equality through soccer.

As Paraguay enters its fourth decade fighting the HIV/AIDS epidemic, there is still more work to be done. Since the first case was registered in 1985, over 15 thousand people have been diagnosed with HIV. With these numbers overwhelmingly affecting the youth population in Paraguay, there is a lot that Community Health and other volunteers have been doing to raise awareness.
Each rassroot soccer's activity in the 12-course module focuses on a theme that is then discussed through dynamic activities with youth. It is a way to break the taboo of talking about these issues while working with youth in a fun and unique way. Community counterparts help to implement these projects that engage the entire community around these issues.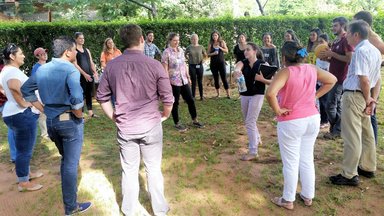 This program is not limited to volunteers in the health sector, so many volunteers use this resource to facilitate the discussions of communication and sexual health. Peace Corps Paraguay has over 30 complete kits that come with everything from indestructible soccer balls to manuals in both English and Spanish. More than 20 volunteers have used this program over the past year to impact more than 150 youth around the country, creating a network of empowered youth that are able to make decisions about their futures and understand the importance of maintaining their sexual and reproductive health.
Another aspect of Grassroot Soccer that is adding to the lives of many Paraguayans, is using it as a tool for health care providers. Often community health volunteers are working with communities by adding more dynamic teaching styles when providing health education. We work with volunteers and their counterparts during training to give community leaders the skills and confidence to use new teaching methods in their communities.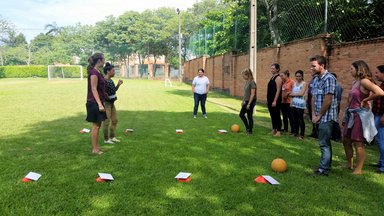 Grassroot Soccer reinforces different healthy behaviors in each activity. We use the "Risk Field" activity in trainings because of its demonstrates healthy decision making, as well as reinforcing how our actions can have consequences for the community. Many of the activities also show how hands on learning can explain more abstract concepts. The "HIV Attack" activity takes the complicated process of how HIV and its treatment affect the body and makes it understandable in a fun game.
Community Health sector staff and current volunteers come together to lead these activities at trainings for volunteers and counterparts. Working together allows the trainings to become more impactful since current volunteers can share their experiences about implementing the program, while staff provides much of the admin support and the cultural context for working on sexual and reproductive health. Grassroot Soccer will continue to be an influential tool for Peace Corps volunteers across all sectors here in Paraguay. It is a program that is easy to use and adapts to the specific community's needs, while its ease of access allows for volunteers without a sex education background to implement an effective workshop.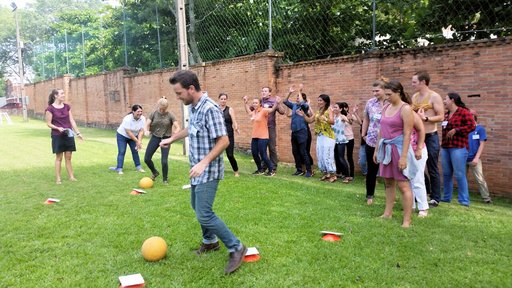 Curious to learn more? Explore the World Wise Schools resources on this topic.
Explore