FOR IMMEDIATE RELEASE:
Wednesday, March 8, 2023
THE PEACE CORPS LAUNCHES 'BOLD INVITATION' CAMPAIGN TO INSPIRE A NEW GENERATION OF AMERICANS TO GO THE DISTANCE TO MAKE A DIFFERENCE
Agency Aims to Engage 5,000 Volunteers in the Next Year to Bolster Impact in Agriculture, Economic Development, Education, Environment, Health and Youth Advancement in 60+ Countries Across the Globe
(Washington, D.C. | Wednesday, March 8, 2023) – The Peace Corps this week unveiled its new marketing campaign, Bold Invitation, that calls on motivated changemakers to advance the agency's mission to spread world peace and friendship through international service. With the goal of recruiting and deploying more than 5,000 Volunteers over the next year, the agency is committed to attracting and retaining the most talented and diverse group of Peace Corps Volunteers in the agency's history.
"We want Americans to see themselves in the Peace Corps through this campaign launch and answer the bold invitation to serve with a resounding yes!," said Peace Corps Director Carol Spahn. "These last two years have challenged us all to examine how we show up in the world, how we want to live our lives, and how we can make a difference. And this campaign invites Americans to be a part of something bigger than themselves by connecting with communities around the world."
The Peace Corps' unique approach to international development, which is rooted in people-centered, localized impact is also a central focus of the campaign. Approximately 90 percent of youth ages 15-24, live in developing countries – presenting a unique opportunity for global innovation in technical and skills-based learning and training. Through its network of staff, community partners, Volunteers, and returned Volunteers, the agency is positioned to address some of today's most pressing issues through its six focus areas: 1) agriculture; 2) economic development; 3) education; 4) environment; 5) health and 6) youth advancement at the grassroots level.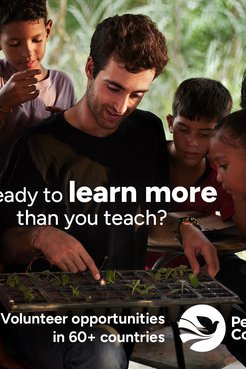 The campaign is an inclusive call to action for qualified Americans who are interested in addressing some of today's most pressing global challenges to explore, connect and apply to the Peace Corps. Through inspiring and cutting-edge multimedia, the agency is calling service-minded individuals – including those who have not previously considered international service – to #ServeBoldly and go the distance to make a difference in communities around the world. Campaign elements, include the Bold Invitation anthem video, radio and digital ads, social media activations on Snapchat and Spotify, out-of-home creative, and a newly launched Bold Invitation landing page: peacecorps.gov/bold.
The Peace Corps currently has over 1,000 Volunteers serving in 51 countries across Africa, Europe, the Mediterranean, Asia, the Inter-Americas, and the Pacific at the invitation of host country governments doing projects determined by community priorities. For more information about how to join the Peace Corps, visit www.peacecorps.gov/bold.
# # #
ABOUT THE PEACE CORPS:
The Peace Corps is an international service network of volunteers, community members, host country partners and staff who are driven by the agency's mission of world peace and friendship. At the invitation of governments around the world, Peace Corps volunteers work alongside community members on locally-prioritized projects in the areas of education, health, environment, agriculture, community economic development and youth development. Through service, members of the Peace Corps network develop transferable skills and hone intercultural competencies that position them to be the next generation of global leaders. Since President John F. Kennedy established the Peace Corps in 1961, more than 240,000 Americans have served in 143 countries worldwide. For more information, visit peacecorps.gov and follow us on Facebook, Instagram and Twitter.

PRESS CONTACTS:
Charmion Kinder
Peace Corps Communications Director
[email protected]

Troy Blackwell
Peace Corps Director of Press Relations and Spokesperson
[email protected]
---