FOR IMMEDIATE RELEASE:
Thursday, June 29, 2023
STATEMENT FROM PEACE CORPS DIRECTOR CAROL SPAHN ON THE COLLEGE AFFIRMATIVE ACTION PROGRAMS SUPREME COURT RULING
(Washington, D.C. | Thursday, June 29, 2023) – For 62 years, the Peace Corps has built bridges of understanding across differences and demonstrated a commitment to ensuring opportunity for all. These tenets have been our guiding principles while working in some of the most remote and vulnerable communities around the world and when our Volunteers return home.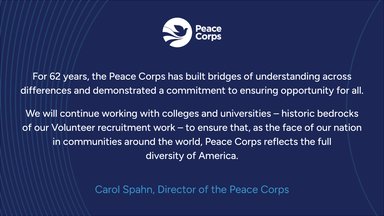 We pride ourselves on seeking out the best candidates to join the Peace Corps. And our best reflects the rich tapestry of people, identities, and experiences that make up who we are as a nation.

All members of the Peace Corps network, including every Volunteer, employee, host family, and counterpart, brings their own unique backgrounds with them to further our mission of world peace and friendship. Their diverse perspectives strengthen us as an agency, a nation, and a global community.

Educational and career pathways – whether here at home or abroad – must be made available to all. This requires that we continuously examine systems and structures to proactively remove barriers and promote inclusion.

We will continue working with colleges and universities – historic bedrocks of our Volunteer recruitment work – to ensure that, as the face of our nation in communities around the world, Peace Corps reflects the full diversity of America.

# # #
---