FOR IMMEDIATE RELEASE:
Thursday, September 12, 2013
Peace Corps Volunteers Lead Technology Camp for Young Women in Rwanda
WASHINGTON, D.C., September 12, 2013 – Peace Corps volunteers in Rwanda, led by Lyla Fujiwara of Rochester, N.Y., recently organized an information and communications technology camp to teach female secondary school students computer skills that will advance their confidence and economic opportunities.
Camp TechKobwa lasted four days and brought together nearly 50 young women from seven schools across Rwanda. The camp included 10 core lessons and two panel discussions, as well as sports, crafts and games. Classes taught the students how to set up an email account and basic programming and blogging, and panel discussions featured Rwandan women who spoke about women in the media and women in technology.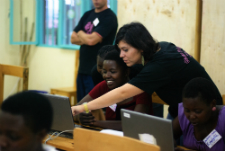 "The purpose of Camp TechKobwa was to provide the students with unhindered access to computers to develop skills and creativity in using technology, as well as to inspire them as the next generation of Rwandan technology entrepreneurs," said Fujiwara, a graduate of Brown University.
A USAID-Peace Corps Small Projects Assistance (SPA) grant allowed the volunteers to invite students to participate in the camp free of charge. The Rwandan Ministry of Youth and Information and Communications Technology also covered transportation costs for students, volunteers and panelists who participated.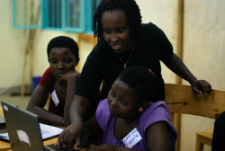 "Camp TechKobwa focused on empowerment for girls through gaining skills and confidence using computers and media technology," Fujiwara said. "The camp encouraged young women to become active citizens by building their self-esteem and confidence, and empowered them to start computer and media clubs with their information and communication technology teachers upon returning to their schools."
Prior to the start of the camp, 14 Rwandan teachers and 13 Peace Corps volunteers went through training, and were encouraged to share what they learned with coworkers and counterparts. In addition to Fujiwara, Peace Corps volunteers who participated in Camp TechKobwa included: Ginger Anderson of Durango, Colo.; Michael French, of Tumwater, Wash.; Michael Goren of Baltimore, Md.; Shawn Grund of Savage, Minn.; Meredith LaFrance of Tillamook, Ore.; Todd Laudino of Piscataway, N.J.; Judi Stalter of Fairbanks, Alaska; Elizabeth Stuhr of Ankeny, Iowa; Elisabeth Turner of Elk Grove, Calif.; Zachary Wiberg of Grass Valley, Calif.; Lauren Wright of Columbia, S.C.; and Claudia Zeiler of San Francisco, Calif.
About Peace Corps/Rwanda: More than 395 Peace Corps volunteers have served in Rwanda since the program was established in 1975. Currently, 161 volunteers serve in Rwanda. Volunteers work in the areas of health and education. Volunteers are trained and work in Kinyarwanda.
About the Peace Corps: Since President John F. Kennedy established the Peace Corps by executive order on March 1, 1961, more than 210,000 Americans have served in 139 host countries. Today, 8,073 volunteers are working with local communities in 76 host countries in agriculture, community economic development, education, environment, health and youth in development. Peace Corps volunteers must be U.S. citizens and at least 18 years of age. Peace Corps service is a 27-month commitment and the agency's mission is to promote world peace and friendship and a better understanding between Americans and people of other countries. Visit www.peacecorps.gov for more information.
# # #
---