FOR IMMEDIATE RELEASE:
Friday, November 19, 2010
Peace Corps Volunteers Facilitate Hands-On Science Education in Rural Tanzania
WASHINGTON, D.C., Nov. 19, 2010 Peter McDonough, a Peace Corps volunteer in Tanzania from Racine, Wis., is teaching students and teachers hands-on science lessons at a school in central Tanzania.
McDonough is one of several volunteers running the Shika na Mikono, or Hold with Hands project, an effort to enable every school in the country to use hands-on science teaching methods.
The vision is simple: even the most remote school can teach science using low-cost materials. The Shika na Mikono project identifies new sources of materials, modifies hands-on activities to use such resources, and provides technical training to teachers. The Peace Corps volunteers hope to expand the project worldwide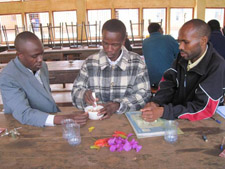 Students learn science best when they work with their hands," says project leader Aron Walker, a third-year Peace Corps Volunteer from Hillsborough, Calif. "Teaching chemistry without chemicals is like teaching someone to drive without a car, or to make a PowerPoint presentation without a computer. Many people believe that quality science education requires expensive equipment and chemicals, but this could not be further from the truth."
The team of volunteers has designed entire school laboratories using common, inexpensive materials that teachers may find in their village or a nearby town. The project has identified local sources of dozens of chemicals, ranging from sodium hydroxide (caustic soda from village soap makers) to graphite electrodes (the cores of old, dry-cell batteries) to elemental sulfur (imported in 100 pound-bags for use in agriculture). The volunteers also teach students how to make complicated reagents like Benedict\'s solution from common industrial chemicals and have identified various local flowers to serve as acid-base indicators.
The primary goal is for Tanzanian teachers to lead the experiments themselves.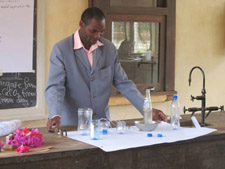 "Nothing energizes teachers more than examples of what they can do with what they already have," says Walker, who travels by bus on dusty roads with a mobile laboratory in his suitcase. "I show up in these really remote places with no electricity, eight hours from the nearest paved road, and we do science activities until the sun goes down.
In June 2010, four Peace Corps Volunteers attended a national teacher training conference to spread ideas for teaching science with local materials.
"The teachers totally ran with it," remembers Michael Rush, a recently returned Peace Corps volunteer from Idaho Falls, Idaho. "One day we posed the challenge of preparing oxygen gas and gave some teachers a pile of junk plastic water bottles, unused hospital IV lines, dead batteries. We asked and offered relevant information. There was so much excitement, freedom, creativity. The final results were so good that they were filmed for national TV."
About the Peace Corps:
President John F. Kennedy established the Peace Corps on March 1, 1961 by executive order. Peace Corps will commemorate 50 years of promoting peace and friendship around the world through 2011. Historically, more than 200,000 Americans have served with the Peace Corps to promote a better understanding between Americans and the people of 139 host countries. Today, 8,655 volunteers are working with local communities in 77 host countries. Peace Corps volunteers must be U.S. citizens and at least 18 years of age. Peace Corps service is a 27-month commitment.
# # #
---