FOR IMMEDIATE RELEASE:
Tuesday, March 8, 2011
Peace Corps Releases 50th Anniversary Commemorative Print
Washington, D.C., March 8, 2011 The Peace Corps releases a
commemorative print
by prominent artist Shepard Fairey in commemoration of the agencys 50th anniversary. The print is based on a 2009 photograph of a Peace Corps volunteer in Senegal, and is symbolic of the work of more than 200,000 Peace Corps volunteers who have served in 139 countries since 1961.
Shepard Faireys print represents the sustainable solutions Peace Corps volunteers create everyday in cooperation with local host communities. Volunteers work side-by-side with communities on pressing global challenges, like education, nutrition, and the environment, said Peace Corps Director Aaron S. Williams.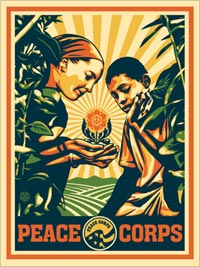 The unveiling of the print coincides with Peace Corps Month a commemoration recognizing the achievements of Peace Corps volunteers, both past and present. On March 1, 2011, Peace Corps commemorated 50 years of service that began with
President John F. Kennedy
signing the executive order that established the agency on March 1, 1961. Six months after Kennedys signing, the first group of Peace Corps volunteers left for Ghana and Tanzania.
Im inspired by the work of Peace Corps volunteers around the world. Volunteers share their creativity and compassion with their local communities, said Shepard Fairey. I hope this poster inspires the next generation of volunteers. Faireys sister served as a Peace Corps volunteer in Togo.
The Peace Corps volunteer in the photograph, Caitrin Martin, completed her service in 2009. Today, Martin works as an agriculture scientific specialist at the U.S. Department of Agriculture (USDA) in Washington, D.C.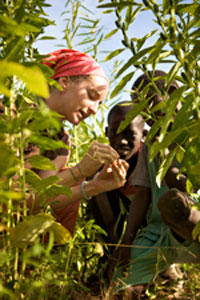 About Fairey:
Fairey is an American contemporary artist, graphic designer, and illustrator whose work is included in the collections of the Smithsonian Institution, the Los Angeles County Museum of Art, the Museum of Modern Art in New York, and the Victoria and Albert Museum in London.
About Peace Corps Commemorative Print:
The print was made in two sizes: the first is a limited edition, signed, numbered, hand-pulled, 18 x 24 silk-screened print; and the second is 24 x 36 offset print. Both are printed on 80lb cover, French Cream Speckletone paper. Both versions are available to donors in recognition of donations at certain levels to the Peace Corps 50th Anniversary fund. The Peace Corps 50th Anniversary fund supports education and engagement activities around the world to help honor Peace Corps past and inspire the next generation of volunteers.
About Peace Corps/Senegal:
More than 3,075 Peace Corps volunteers have served in Senegal since the program was established in 1963. Volunteers in this West African nation work in small enterprise development, rural resource management, agricultural, and health and HIV/AIDS awareness. Volunteers in Senegal are leading efforts to prevent malaria, the leading cause of child mortality in Senegal, by providing malaria prevention education and assisting with the Senegalese governments nationwide distribution of insecticide treated mosquito bed nets to children under 5. Currently, 205 volunteers are serving in Senegal. Volunteers are trained and work in 11 local languages.
To learn more about Peace Corps 50th Anniversary activities, visit
www.peacecorps.gov/50
.
About the Peace Corps:
President John F. Kennedy established the Peace Corps on March 1, 1961, by executive order. Throughout 2011, Peace Corps is commemorating 50 years of promoting peace and friendship around the world. Historically, more than 200,000 Americans have served with the Peace Corps to promote a better understanding between Americans and the people of 139 host countries. Today, 8,655 volunteers are working with local communities in 77 host countries. Peace Corps volunteers must be U.S. citizens and at least 18 years of age. Peace Corps service is a 27-month commitment. Visit www.peacecorps.gov for more information.
# # #
---