FOR IMMEDIATE RELEASE:
Wednesday, July 13, 2011
Peace Corps Receives Presidential Order of Honor in Moldova
Washington, D.C., July 13, 2011 The Peace Corps was awarded with the "Ordinul de Onoare" (Order of Honor) by Moldova Acting President and Speaker of Parliament Marian Lupu at the Presidential Residence in Chisinau on
July 12
. The award was given to Peace Corps in recognition of current and returned volunteers contributions to community development in Moldova and the outstanding friendship between Moldova and the United States. The Order of Honor is the highest state distinction given by presidential decree to foreign organizations and individuals in Moldova.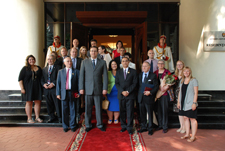 We are honored to receive this award on behalf of the more than 1,000 Americans who have served in Moldova as Peace Corps volunteers, said Peace Corps Director Aaron S. Williams. Volunteers work with local communities to create solutions that help Moldovans build better lives for themselves. Peace Corps volunteers promote peace and friendship by strengthening the ties between our two nations.
The award was accepted by Acting Peace Corps Country Director Margaret Molinari and the ceremony was attended by Peace Corps volunteers and staff. In addition to the Peace Corps, the Order of Honor was given to the U.S. Ambassador to Moldova Asif Chaudhry, the French Ambassador to Moldova Pierre Andrieu, and the French Alliance.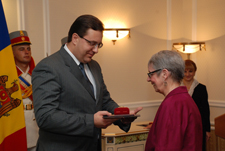 To watch the Order of Honor ceremony, visit the
U.S. Embassy in Moldova on You-Tube
.
About Peace Corps/Moldova:
More than 1,030 Peace Corps volunteers have served in Moldova since the program was established in 1993. Volunteers in this Eastern European nation work in the areas of English education, school and community health education, agri-business and rural business development, and community and organizational development. Currently, 117 volunteers are serving in Moldova. Volunteers are trained and work in Romanian and Russian.
About the Peace Corps:
President John F. Kennedy established the Peace Corps on March 1, 1961, by executive order. Throughout 2011, Peace Corps is commemorating 50 years of promoting peace and friendship around the world. Historically, more than 200,000 Americans have served with the Peace Corps to promote a better understanding between Americans and the people of 139 host countries. Today, 8,655 volunteers are working with local communities in 76 host countries. Peace Corps volunteers must be U.S. citizens and at least 18 years of age. Peace Corps service is a 27-month commitment. Visit www.peacecorps.gov for more information.
# # #
---