FOR IMMEDIATE RELEASE:
Tuesday, April 30, 2013
Peace Corps Mourns the Loss of Volunteer Danielle Dunlap
WASHINGTON, D.C. April 30, 2013 – Peace Corps Deputy Director Carrie Hessler-Radelet is saddened to confirm the death of Peace Corps volunteer Danielle Dunlap. Dani, 25, died in Ghana on Sunday, April 28 after becoming ill.
"Dani was a widely respected and ambitious Peace Corps volunteer who was an exceptional role model for the youth in Jukwa Krobo," Deputy Director Carrie Hessler-Radelet said. "The entire Peace Corps family is grieving over this tragic loss. During this difficult time, our thoughts and prayers are with Dani's loved ones and her community both here and in Ghana."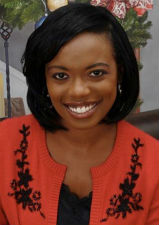 Dani, of Atlanta, Ga., arrived in Ghana on June 6, 2011 for pre-service training as a health volunteer. She was one of 69 Americans sworn in as Peace Corps volunteers on Aug. 30, 2011 at the residence of the U.S. Ambassador to Ghana as part of the 50th anniversary celebration of Peace Corps in Ghana. Throughout her service, she carried out activities aimed at improving the quality of life for her community in the areas of nutrition, HIV/AIDS and malaria awareness, and sanitation. Peace Corps Ghana staff said Dani's boundless energy and enthusiasm endeared her to her community in Ghana, and that she was proud of her role as a volunteer trainer, helping to mentor newly arrived volunteers in the projects to which she was so devoted. Dani was scheduled to complete her service on August 16, 2013.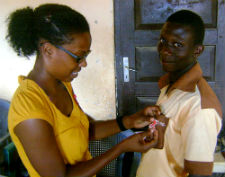 Attending Brown University, Dani graduated in 2010 with a bachelor's degree in neuroscience. Throughout her time there, she planned and hosted events for prospective minority students as a minority recruitment intern. She was also a swim instructor for children with asthma and a sleep research intern.
Dani was born in Germany and lived in several places around the world before her service in Ghana. She enjoyed traveling and studied abroad in both Haiti and South Korea, where she learned Spanish and Korean. Prior to joining the Peace Corps, Dani tutored young students in English, math and science at The Academy at Harvard Square in Cambridge, Mass.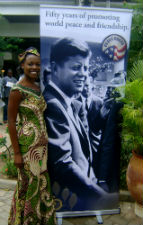 In addition to her volunteer work and interest in different cultures, Dani hoped to pursue a career in health care. She spent a summer learning about efforts to deliver needed medical supplies to developing countries, and looked forward to gaining more experience in the field during her time in central Ghana. Her community greatly appreciated her health care work and had planned to honor her accomplishments. Dani also had a passion for Christian missionary work, dancing and scuba diving.
Dani is survived by her parents, grandfather, grandmother, and a host of uncles, aunts and cousins.
About the Peace Corps: Since President John F. Kennedy established the Peace Corps by executive order on March 1, 1961, more than 210,000 Americans have served in 139 host countries. Today, 8,073 volunteers are working with local communities in 76 host countries in agriculture, community economic development, education, environment, health and youth in development. Peace Corps volunteers must be U.S. citizens and at least 18 years of age. Peace Corps service is a 27-month commitment and the agency's mission is to promote world peace and friendship and a better understanding between Americans and people of other countries. Visit www.peacecorps.gov for more information.
# # #
---