FOR IMMEDIATE RELEASE:
Thursday, September 23, 2010
Peace Corps Hosts Senator Dodd, a Returned Peace Corps Volunteer
WASHINGTON, D.C., Sept. 23, 2010 The Peace Corps welcomed returned Peace Corps volunteer, Sen. Chris Dodd (D-Conn.), to its headquarters in Washington, D.C., as part of the Loret Miller Ruppe Speaker Series.
Peace Corps Director Aaron S. Williams introduced the senator, who recounted his experiences serving in the Dominican Republic and discussed the agencys role in encouraging Americans to serve overseas. After Dodds remarks, Director Williams and Dodd fielded questions from Peace Corps employees and returned volunteers in the audience. Peace Corps nine regional recruiting offices were also tuned into the speaker series event via video conference.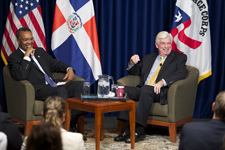 Senator Dodd has been a great friend to Peace Corps and Im proud that his service overseas has helped shaped his legacy in Congress, said Director Williams. Over the course of his 30-plus years in Congress, Senator Dodd has met with hundreds of volunteers around the world and he has been a tremendous advocate for the Peace Corps. He has consistently fought to increase funding and the number of volunteers who serve in the Peace Corps.
As the Peace Corps approaches its 50th Anniversary, we celebrate one of the most radical ideas I know - that a great nation should send its people abroad, not to extend its power, not to intimidate its enemies, but to build, to dig, to teach, and to ask nothing in return, said Dodd. Never let us lose that spirit, that idealism, that ambition that led a young President of a young nation, John F. Kennedy, to ask a generation to serve. Now is the time to strengthen and renew the Peace Corps as it prepares for its next 50 years of service in the 21st century.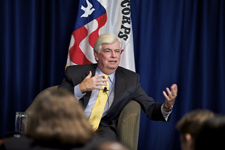 Peace Corps Loret Miller Ruppe Speakers Series honors the agency\'s longest serving director and is a forum for distinguished individuals to speak about issues related to the Peace Corps\' mission such as volunteering, public service, and international peace and development.
Dodd was a Peace Corps volunteer from July 1966 to September 1968 serving in the rural Dominican Republic village of Moncion. As a volunteer he worked with rural communities to help build a maternity hospital, two schools, and a youth club. According to Dodds description of his Peace Corps volunteer service in 1968, he collected Indian relics, travelled throughout the island, visited Haiti, and built an A frame house out of local materials.
Dodd has been a Member of Congress since 1974. He has served for five terms representing Connecticut in the U.S. Senate and three terms in the U.S. House of Representatives.
As Peace Corps approaches its 50th anniversary, its service legacy continues to promote peace and friendship around the world with 7,671 volunteers serving in 77 host countries. Historically, nearly 200,000 Americans have served with the Peace Corps to promote a better understanding between Americans and the people of 139 host countries. Peace Corps volunteers must be U.S. citizens and at least 18 years of age. Peace Corps service is a 27-month commitment.
# # #
---