FOR IMMEDIATE RELEASE:
Friday, September 10, 2010
Peace Corps Honors Outstanding Returned Peace Corps Volunteers at Franklin H. Williams Award Ceremony
WASHINGTON, D.C., Sept. 10, 2010 Peace Corps Director Aaron S. Williams presented Franklin H. Williams awards to nine returned Peace Corps volunteers (RPCVs) at a ceremony in Shriver Auditorium at Peace Corps Headquarters on September 9, 2010. The Franklin H. Williams awards honor ethnically diverse returned volunteers who exemplify a commitment to community service and Peace Corps\' Third Goal of promoting a better understanding of other peoples on the part of Americans.
I would like to personally congratulate our RPCVs being honored with the 2010 Franklin H. Williams Award. I appreciate all you do to inspire the next generation of Peace Corps Volunteers, your commitment to our Third Goal, and your continued dedication to public service, said Director Williams in his remarks at the ceremony. It is an honor to bestow this award tonight in the memory of Franklin H. Williams on the eve of our 50th anniversary.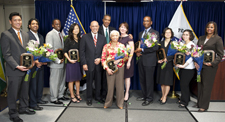 Franklin H. Williams awardees have demonstrated a commitment to community service, made efforts to generate awareness about the Peace Corps, provided assistance to Peace Corps\' regional recruiting office staff, and/or worked to promote Peace Corps\' Third Goal. Each of the nine Peace Corps Regional Recruitment Offices reviewed local nominations for award recipients and submitted the name of their regional awardee to Peace Corps\' Office of Diversity Recruitment and National Outreach.
The following returned Peace Corps volunteers are the 2010 Franklin H. Williams award recipients:
Tony S. Chung, of Los Angeles, Calif. (Ukraine, 2004 - 2006)


Adrienne Gordon Fagler, of Atlanta, Ga. (Russia, 1995 1997)


Veneeth Iyengar, of Washington, D.C. (Philippines, 2002 2004)


Michael Kim, of Seattle, Wash. (Guyana, 1997 1999)


Elner Jean McCraty, of Buffalo, N.Y. (Nigeria, 1963 1965)


Anna M. Omura, of Somerville, Mass. (Togo, 2004 2006)


Corey Quinlan Taylor, of Silver Spring, Md. (Benin, 1997 1999)


Cecilia Villarruel, of Chicago, Ill. (Namibia, 2006 2008)


Byron Lamar Williams, of Las Vegas, Nev. (Lesotho, 2003 2005)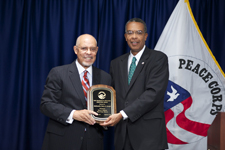 In addition to the nine regional awardees, Director Williams presented the 2010 Franklin H. Williams Directors Award to The Honorable James A. Joseph, former U.S. Ambassador to South Africa (1995-1999) and Professor of Public Policy Studies at Duke University and the University of Cape Town.
I am pleased and honored to have been invited to help honor the legacy and celebrate the life of Franklin Williams, said Ambassador Joseph in his keynote remarks at the awards ceremony. Wherever volunteers find themselves and however they choose to live out their dream, I hope the Peace Corps experience will cultivate an enduring impulse to help transform the laissez-faire notion of live and let live into the principle of live and help live.
ABOUT THE FRANKLIN H. WILLIAMS AWARDS: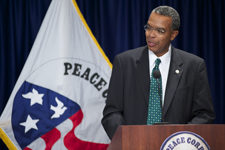 Peace Corps is proud to recognize Franklin H. Williams and pay tribute to his remarkable legacy. Ambassador Williams was an early architect of the Peace Corps. He worked at the agency from its inception in 1961 to 1963 and helped Sargent Shriver the first Peace Corps Director promote the agency and its programs to the world. Ambassador Williams\' exceptional public service career included positions as the Peace Corps Regional Director for Africa, the U.S. representative to the United Nations Economic and Social Council, and the U.S. Ambassador to Ghana.
The first Franklin H. Williams award ceremony was held in 1999. Since that time, the ceremony has been held in 2001, 2002, 2003, 2005, 2006, 2008 and 2010. To date, 101 outstanding returned Peace Corps Volunteers have received the award.
As Peace Corps approaches its 50th anniversary, its service legacy continues to promote peace and friendship around the world with 7,671 volunteers serving in 77 host countries. Historically, nearly 200,000 Americans have served with the Peace Corps to promote a better understanding between Americans and the people of 139 host countries. Peace Corps volunteers must be U.S. citizens and at least 18 years of age. Peace Corps service is a 27-month commitment.
# # #
---