FOR IMMEDIATE RELEASE:
Thursday, April 22, 2010
Peace Corps Celebrates Earth Day
WASHINGTON, D.C., April 22, 2010 Peace Corps volunteers around the world are commemorating the 40th anniversary of Earth Day by working with local communities to implement sustainable grassroots projects that protect the environment and increase awareness of environmental issues. Nearly 20 percent of Peace Corps volunteers have primary assignments in the environment and agriculture sectors in 32 countries worldwide. Many other Peace Corps volunteers participate in environment-related secondary service projects in their host countries and will use Earth Day-related activities to engage youth in conjunction with this weekend\'s Global Youth Service Day.
I am proud of the sustainable impact that Peace Corps volunteers create by promoting environmental stewardship. said Peace Corps Director Aaron S. Williams. From providing education that improves soil conservation, forestry and vegetable gardening practices to organizing local environmental youth clubs, Peace Corps volunteers not only work to protect the environment, but also to improve public health and support green economies.
Peace Corps volunteers work in partnership with host communities to implement projects that address local environmental issues. Examples of these projects include reforestation, soil and water management, natural disaster planning, agricultural diversification, energy conservation, the implementation of efficient cook stoves, and the use of biodigesters and photovoltaics. You can see in this video that for Peace Corps Volunteers, every day is Earth Day.
The following are three examples of Peace Corps environmental projects:
Cape Verde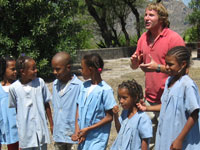 Volunteer Steven Easterby of Omaha, Neb., is working with a local Cape Verde organization on ecotourism management within Sao Nicolaus Parque Natural Monte Gordo. He helps with visitor management, trail and signage maintenance efforts, and to promote the park as an international tourism destination. Our hope is that by developing the park, we will be able to attract greater numbers of tourists to an attractive cultural and ecotourism destination, and generate money for the communities within and surrounding the park, said Easterby.
Lesotho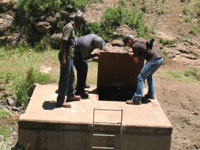 Volunteer Phil Youngren of Ellensburg, Wash., is working with his local communitys Department of Rural Water Supply in Lesotho to build 250 water supply systems and implement an improved model of ventilated pit-latrines for every household that will gain access to a new water system. Youngrens goal is to improve public health by improving access to clean water and sanitation facilities for an estimated 150,000 community members. These efforts will help reduce the amount of time collecting water and allow community members to spend more time on educational, economic and leisure activities.
Panama
Peace Corps volunteer Bethany Brandenburg of Frederick, Md., teaches environmental education to over 120 students in a small, rural community in Panama. Brandenburg also helped organize a community effort to plant over 1,200 mangrove trees in a deforested coastal region in her local community. Brandenburgs other projects include trash management and the husbandry of a local endangered species known as el conejo pintado, a Central American forest rodent.
As Peace Corps approaches its 50th anniversary, its service legacy continues to promote peace and friendship around the world with 7,671 volunteers serving in 76 host countries. Historically, nearly 200,000 Americans have served with the Peace Corps to promote a better understanding between Americans and the people of 139 host countries. Peace Corps volunteers must be U.S. citizens and at least 18 years of age. Peace Corps service is a 27-month commitment.
# # #
# # #
---