FOR IMMEDIATE RELEASE:
Friday, August 23, 2013
Peace Corps Celebrates 50 Years in Malawi with the Arrival of New Global Health Service Partnership Volunteers
WASHINGTON, D.C., Aug. 23, 2013 – Peace Corps celebrated 50 years in Malawi this week with the country's launch of its Global Health Service Partnership program at a ceremony at the Presidential Statehouse in Lilongwe. The celebration featured Malawi President Dr. Joyce Banda, U.S. Ambassador to Malawi Jeanine Jackson, Peace Corps Acting Director Carrie Hessler-Radelet, and Chief Executive Officer of Seed Global Health Dr. Vanessa Kerry.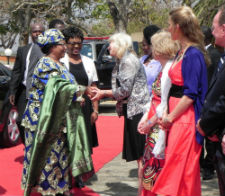 Eleven of the 30 volunteers sworn in at the White House in July as the first class of Peace Corps' Global Health Service Partnership program will serve their one-year assignments at local healthcare institutions in Malawi, including the University of Malawi's College of Medicine, Kamuzu College of Nursing, and Mzuzu University. The new volunteers will serve as medical and nursing educators, working alongside local faculty to train the next generation of healthcare professionals. Malawi is one of three African countries, along with Tanzania and Uganda, participating in the new program.
"We are so grateful to have extraordinary support and cooperation from the government of Malawi," Peace Corps Acting Director Carrie Hessler-Radelet said at the ceremony. "I know that the doctors and nurses who are here in Malawi as Global Health Service Partnership volunteers will fit seamlessly into what is already a vibrant and successful partnership."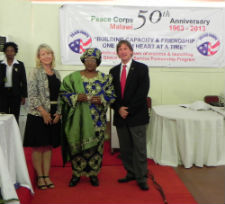 The Global Health Service Partnership is a collaboration of the Peace Corps, the President's Emergency Plan for AIDS Relief (PEPFAR), and the non-profit Seed Global Health. It represents the first organized effort by the Peace Corps to send U.S. healthcare professionals abroad with a focus on teaching and expanding clinical capacity to address the known shortage of skilled physicians, nurses and clinical faculty in resource-limited countries.
"We are proud to be a part of this innovative partnership," said Vanessa Kerry, M.D., CEO of Seed Global Health. "After months of collaboration, we believe the volunteers we've selected to work side by side with Malawian health faculty, and the training that they will provide, will help cultivate a future pipeline of local healthcare professionals that will serve Malawians for generations to come."
Over the past 50 years, tens of thousands of Malawians, including some of the country's most prominent leaders, have benefited from learning and working with the thousands of Peace Corps volunteers who have served in the country. More than 2,600 Peace Corps volunteers have served in Malawi since the program was established in 1963. Today, there are 130 volunteers in Malawi trained in seven different local languages that work in the areas of education, environment, agriculture and health.
The United States is Malawi's largest bilateral partner. In 2012, the U.S. invested more than $185 million to support the prevention of HIV/AIDS, malaria and tuberculosis, and education on maternal and child health, nutrition, clean water and sanitation, and health system infrastructure in Malawi.
To apply to serve as a Global Health Service Partnership volunteer starting July 2014, visit http://www.peacecorps.gov/response/globalhealth/.
About Seed Global Health: Seed Global Health is a non-profit whose mission is to strengthen health systems globally by partnering U.S. physicians and nurses with local educators. Seed Global Health believes educational partnerships can rapidly increase the pool of providers and educators in countries where they are most needed. Committed to recruiting the best-qualified candidates, including those who may have financial constraints to service, Seed Global Health raises and disburses loan repayment and other appropriate stipends of support to individuals chosen for assignments abroad. Visit www.seedglobalhealth.org for more information.
About the Peace Corps: Since President John F. Kennedy established the Peace Corps by executive order on March 1, 1961, more than 210,000 Americans have served in 139 host countries. Today, 8,073 volunteers are working with local communities in 76 host countries in agriculture, community economic development, education, environment, health and youth in development. Peace Corps volunteers must be U.S. citizens and at least 18 years of age. Peace Corps service is a 27-month commitment and the agency's mission is to promote world peace and friendship and a better understanding between Americans and people of other countries. Visit www.peacecorps.gov for more information.
###
# # #
---