FOR IMMEDIATE RELEASE:
Tuesday, August 25, 2015
Peace Corps Celebrates 20 Years of Promoting Gender Equality through Camp GLOW
WASHINGTON, D.C., August 26, 2015 – Today, Peace Corps Director Carrie Hessler-Radelet joins volunteers and staff around the world in celebrating the 20th anniversary of Camp GLOW (Girls Leading Our World), a program created by three Peace Corps volunteers in Romania that has grown to become the agency's most widespread gender empowerment initiative. For the past two decades, volunteers worldwide have empowered tens of thousands of children and young adults through Camp GLOW programs that encourage self-confidence, challenge campers to think beyond traditional gender roles, and address the unique societal and health issues girls and women face.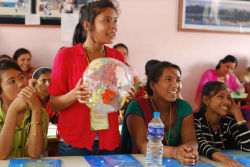 "I am so proud of the work Peace Corps volunteers do to promote gender equality, self-confidence and leadership in youth through programs like Camp GLOW," Director Hessler-Radelet said. "Educating girls is a priority for the agency and we continue to expand our impact through innovative collaborations like Let Girls Learn and the hard work of our volunteers."
In August 1995, Peace Corps volunteers Sara Goodkind, Jennifer Bobb Petramale, Roz Edison and four Romanian teachers took 80 teenaged girls to a mountain campsite for a week-long leadership camp. The purpose of the camp was to encourage the girls to become active citizens by building their self-esteem and confidence, increasing their self-awareness, and developing their skills in goal-setting, assertiveness, and career and life planning. Thus, Camp GLOW was born. Since then, volunteers around the world have held GLOW camps in their own communities and have even created youth camps based off of the GLOW model, like Camp BRO (Boys Respecting Others) and STOMP (Supporting Teamwork Opening Minds Positively).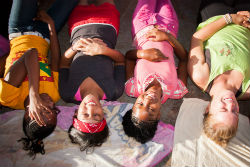 "I don't think we ever imagined Camp GLOW would become so widespread," said co-founder Sara Goodkind, now an associate professor at the University of Pittsburgh School of Social Work who specializes in women's studies. "I'm not sure we envisioned a future for it beyond a one-time camp designed to promote girls' leadership in Romania. But after the first camp, we realized what a meaningful and important experience it was for all of us and recognized that it would be worth continuing and sharing with others."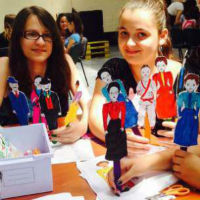 Participants of the first Let Girls Learn funded GLOW Camp in Albania
Twenty years later the camp model continues to thrive. The first Camp GLOW to be funded through Let Girls Learn – a powerful collaboration between First Lady Michelle Obama and the Peace Corps to promote girls' education – took place earlier this summer in Albania and was met with great success. During the camp, Peace Corps volunteer Bonnie Scott worked with local Albanian community members to lead educational and fun activities focused on cultural exchange, individuality and leadership for 60 campers.
"We highlighted topics that Albanian girls don't often learn about," said Scott, a native of Seattle who has been living in Albania since 2014. "The money raised through Let Girls Learn allowed us to hold the camp and will provide for the continued training of camp facilitators, ensuring community sustainability."
About the Peace Corps: The Peace Corps sends the best and brightest Americans abroad on behalf of the United States to tackle the most pressing needs of people around the world. Volunteers work at the grassroots level to develop sustainable solutions that address challenges in education, health, economic development, agriculture, environment and youth development. Through their service, volunteers gain a unique cultural understanding and a life-long commitment to service that positions them to succeed in today's global economy. Since President John F. Kennedy established the Peace Corps in 1961, nearly 220,000 Americans of all ages have served in 140 countries worldwide. For more information, visit www.peacecorps.gov and follow us on Facebook and Twitter.
# # #
---