FOR IMMEDIATE RELEASE:
Wednesday, April 3, 2013
Peace Corps Announces Top Volunteer-Producing Historically Black Colleges and Universities
Howard University earns top spot in 2013
WASHINGTON, D.C., April 3, 2013 – Peace Corps Acting Director Carrie Hessler-Radelet is proud to recognize the top Peace Corps volunteer-producing Historically Black Colleges and Universities (HBCUs). This year, Howard University in Washington, DC, holds the top rank for HBCUs with 21 undergraduate alumni serving as Peace Corps volunteers and 204 alumni having served overseas since 1961.
"Historically Black Colleges and Universities equip students with the skills necessary to make a difference overseas through Peace Corps service," said Acting Director Hessler-Radelet. "Volunteers with diverse backgrounds bring unique cross-cultural experiences to the communities they serve and help promote a greater understanding of all Americans."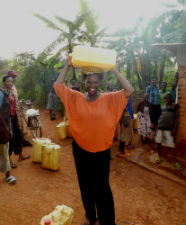 After 27 months abroad working in education, health, community economic development, environment, youth in development or agriculture, Peace Corps volunteers with four-year degrees are uniquely qualified to return to the United States and enter the global job market. Peace Corps volunteers return from service as global citizens and receive support from the Peace Corps in the form of career services, graduate school opportunities, advantages in federal employment, readjustment allowances, and loan deferment and cancellation opportunities.
Howard University graduate Christina Titus of San Diego, Calif., has been living and working in Rwanda since May 2012. Titus feels that the skills she gained as a student at Howard helped prepare her for Peace Corps service. "It was during my time at Howard that I envisioned myself living abroad. Attending an HBCU opens your eyes to a culture you'd otherwise miss in a traditional school. Professors at HBCUs invest in you. You have fellow students from similar backgrounds cheering you on in what can be an arduous road to graduation. Attending Howard gave me the confidence, courage and capacity to take on such a challenge."
The following are the top three Peace Corps volunteer-producing HBCUs:
COLLEGE NAME: VOLUNTEER
NUMBER:
1. Howard University 21
2. Morehouse College 8
3. Spelman College 5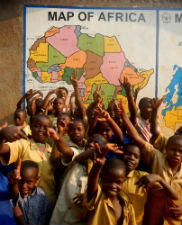 The Peace Corps works to ensure that its volunteers reflect the extraordinary diversity of America, which has enriched and strengthened our country in countless ways. Peace Corps' Office of Diversity and National Outreach (ODNO) works to implement tailored outreach strategies for the recruitment of applicants from historically under-represented communities and those with specialized skills. In April 2012, the Peace Corps and Alpha Kappa Alpha Sorority Incorporated (AKA) signed a memorandum of understanding to increase the number of service opportunities for Americans from underserved communities. AKA is the oldest historically Black sorority in the nation with more than 260, 000 members.
The Peace Corps ranks the top volunteer-producing HBCUs annually. Rankings are calculated based on fiscal year 2012 data as of September 30, 2012 as self-reported by Peace Corps volunteers. Ninety percent of volunteer positions require a bachelor's degree. Americans with backgrounds in agriculture, environment, teaching English as a second language, and other technical or language skills related to Peace Corps assignment areas are encouraged to apply for service one year in advance of their target departure date.
About the Peace Corps: Since President John F. Kennedy established the Peace Corps by executive order on March 1, 1961, more than 210,000 Americans have served in 139 host countries. Today, 8,073 volunteers are working with local communities in 76 host countries in agriculture, community economic development, education, environment, health and youth in development. Peace Corps volunteers must be U.S. citizens and at least 18 years of age. Peace Corps service is a 27-month commitment and the agency's mission is to promote world peace and friendship and a better understanding between Americans and people of other countries. Visit www.peacecorps.gov for more information.
# # #
---