FOR IMMEDIATE RELEASE:
Thursday, September 26, 2013
Peace Corps Announces Collaboration with Republic of Korea on Volunteer Service and Global Development
WASHINGTON, D.C., Sept. 26, 2013 – Peace Corps today announced an agreement with the Korea International Cooperation Agency (KOICA), an aid agency of the Korean Government, to expand collaboration on global development and international volunteer programs. Peace Corps and KOICA will share best practices, technical resources, and training capabilities to improve the quality and impact of international volunteering programs; elevate the profile of volunteering and service; and address urgent development challenges in areas like education, health, and community and youth development.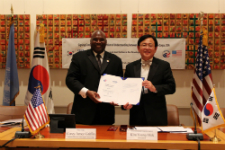 "The Peace Corps has enjoyed a long friendship and partnership with the Republic of Korea, and our shared commitment to international volunteer service will help further the impact of our development work around the globe," Peace Corps Acting Director Carrie Hessler-Radelet said. "It's so fulfilling to see a country Peace Corps once served now supporting the advancement of other countries."
The new memorandum of understanding follows a meeting between President Obama and President Park of the Republic of Korea earlier this year, where they presented a joint declaration to mark 60 years of bilateral partnership and shared prosperity.
KOICA works to fight poverty and support social and economic development in developing countries while enhancing international cooperation. KOICA's volunteering program, World Friends Korea, was launched in 2009 consolidating Korea's seven overseas volunteer programs under five ministries with a purpose of enhancing the effectiveness of the country's overseas volunteer programs. In 2012, World Friends Korea sent more than 4,000 volunteers, including about 3,000 short-term volunteers, to 55 countries to share their knowledge and skills with local communities.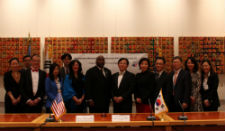 "The fact that Peace Corps members and KOICA World Friends Korea volunteers are working together for people in need at global villages means a lot," President of KOICA Kim Young-mok said. "First, people of Korea can feel a pride in helping others with the members of an organization that helped Koreans when Korea was one of the poorest and most underdeveloped countries. Second, it is the right symbol of the strong U.S.-Korea alliance and partnership that now extends to the global stage."
Peace Corps opened its program in Korea in 1966, and more than 2,000 Peace Corps volunteers served there before operations closed in 1981. Since 2008, the Republic of Korea has recognized the service of Peace Corps/Korea volunteers by hosting return trips for many former volunteers so they can again visit the country. Peace Corps and KOICA programs overlap in more than 30 countries around the world.
About the Peace Corps: Since President John F. Kennedy established the Peace Corps by executive order on March 1, 1961, more than 210,000 Americans have served in 139 host countries. Today, 8,073 volunteers are working with local communities in 76 host countries in agriculture, community economic development, education, environment, health and youth in development. Peace Corps volunteers must be U.S. citizens and at least 18 years of age. Peace Corps service is a 27-month commitment and the agency's mission is to promote world peace and friendship and a better understanding between Americans and people of other countries. Visit www.peacecorps.gov for more information.
# # #
---