FOR IMMEDIATE RELEASE:
Monday, May 4, 2015
Peace Corps and Rotary International Strengthen Ties through Expanded Partnership
WASHINGTON, D.C., May 4, 2015 – Peace Corps Director Carrie Hessler-Radelet and Rotary International General Secretary John Hewko signed a new Memorandum of Understanding (MOU) Saturday at the Rotary District 5450 Conference in Keystone, Colorado, to expand the organizations' partnership to Peace Corps posts worldwide. The global MOU comes a year after the two organizations agreed to explore initial collaboration in the Philippines, Thailand and Togo.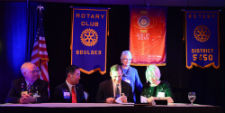 "The Peace Corps is thrilled to build on our work with Rotary, which has already yielded tremendous success in our first year of formal collaboration," Hessler-Radelet said. "This MOU reaffirms our joint dedication to inspiring volunteerism across the country and around the world."
Under the agreement, Rotary and Peace Corps can explore opportunities to collaboratively boost the impact of development programs across the globe. Rotary clubs will be able to support community-initiated Peace Corps volunteer projects through the Peace Corps Partnership Program.
The MOU also encourages Peace Corps volunteers and Rotary clubs to expand connections already in place. Since the organizations' initial collaboration last year, the Peace Corps and Rotary have garnered thousands of dollars to support volunteer projects across the three pilot countries, including a clean water initiative in Togo, a book distribution project in Thailand and the construction of latrines and a learning center for students with disabilities in the Philippines.
Peace Corps and Rotary programs overlap in more than 60 countries, and many returned Peace Corps volunteers join Rotary clubs. Both organizations have rich histories of promoting peace and friendship between cultures and undertaking sustainable development activities to help communities in need throughout the world.
About the Peace Corps: The Peace Corps sends the best and brightest Americans abroad on behalf of the United States to tackle the most pressing needs of people around the world. Volunteers work at the grassroots level to develop sustainable solutions that address challenges in education, health, economic development, agriculture, environment and youth development. Through their service, volunteers gain a unique cultural understanding and a life-long commitment to service that positions them to succeed in today's global economy. Since President John F. Kennedy established the Peace Corps in 1961, nearly 220,000 Americans of all ages have served in 140 countries worldwide. For more information, visit www.peacecorps.gov and follow us on Facebook and Twitter.
About Rotary International: Rotary brings together a global network of volunteer leaders dedicated to tackling the world's most pressing humanitarian challenges. Rotary connects 1.2 million members of more than 34,000 Rotary clubs in over 200 countries and geographical areas. Their work improves lives at both the local and international levels, from helping families in need in their own communities to working toward a polio-free world. For more information, visit Rotary.org.
###
# # #
---