FOR IMMEDIATE RELEASE:
Monday, April 25, 2011
Congressional Delegation Meets with Peace Corps Program in China
Washington, D.C. - On Sunday, April 24, 2011, a delegation of ten United States Senators, led by Majority Leader Harry Reid of Nevada, met with Peace Corps China volunteers and country director Bonnie Thie in Chengdu, China. At Peace Corps Chinas Headquarters, the delegation met with 22 volunteers and Peace Corps staff to discuss the importance of the work of the 130 Americans serving as "U.S.-China Friendship Volunteers".
The bipartisan delegations ten Senators which also included Sen. Richard Shelby (R-Ala.), Sen. Barbara Boxer (D-Calif.), Sen. Richard Durbin (D-Ill.), Sen. Michael Enzi (R-Wyo.), Sen. Charles Schumer (D-N.Y.), Sen. Frank Lautenberg (D-N.J.), Sen. John Isakson (R-Ga.), Sen. Jeff Merkley (D-Ore.), Sen. Michael Bennet (D-Colo.), return to Washington today, concluding their eight-day visit to China.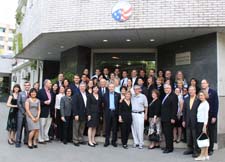 The Peace Corps program in China focuses on university English teaching. Volunteers are placed in Sichuan, Gansu, and Guizhou provinces, as well as the Chongqing municipality. More than 660 Americans have served as volunteers in China since the program opened in 1993.
About the Peace Corps:
President John F. Kennedy established the Peace Corps on March 1, 1961, by executive order. Throughout 2011, Peace Corps is commemorating 50 years of promoting peace and friendship around the world. Historically, more than 200,000 Americans have served with the Peace Corps to promote a better understanding between Americans and the people of 139 host countries. Today, 8,655 volunteers are working with local communities in 77 host countries. Peace Corps volunteers must be U.S. citizens and at least 18 years of age. Peace Corps service is a 27-month commitment. Visit www.peacecorps.gov for more information.
# # #
---