Returning to my village home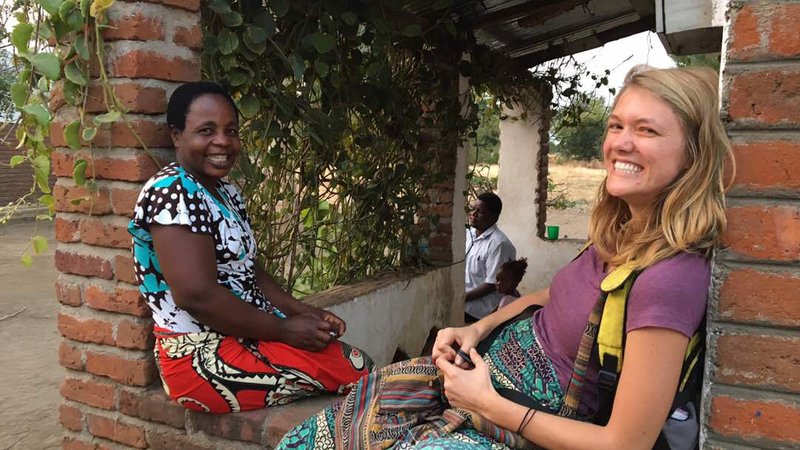 Dec. 4, 2017
Everything looked so familiar, yet there were subtle differences; a house that was now painted blue, the new brick fence, the church that had recently been cemented.
I hadn't realized that I missed this place so much until I was back, drinking tobwa and chatting with my village mother, hugging her like people hug in the States after not seeing someone that you love for a long time. I didn't know I had missed my dirty feet, the hot sun, my waist wrapped in chitenje, or my old home as much as I did.
I didn't understand how much it would mean to me to return to my village 4 months after saying goodbye. How much it would mean to have children still yelling my name from afar, saying hello in Chichewa, or the little voices saying "Kettie, BO" over and over and over. I never thought I'd feel like I did today, overwhelmed with joy to be back in a place I called home for two years. But that's exactly how I felt; joyful, full of love, and so blessed to be able to return only after a short time of being away (yet much longer than I'd ever been away over the past two years).
This weekend, I had the privilege of taking a new friend to my village to experience and learn about how things run at a rural health clinic in Malawi. My friend Betsy is in the process of becoming a certified doula—a woman who is trained to support mothers and their families before, during, and after childbirth—and was hoping to be a part of a birth at a rural health center before she returns to the States. While we were there no mothers actually gave birth, Betsy was still able to see the maternity ward and speak with the nurses and midwifed on call. She also was able to see babies that were born from the night before being HIV tested and registered. So instead of doing what she came for, Betsy explored my village with me as I greeted old friends, visited the market place, and spent time with the family I called mine during my Peace Corps service.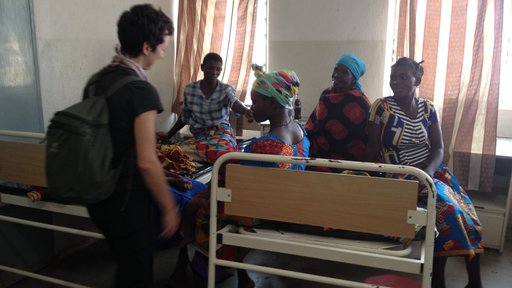 We spent the day trying to fit in as much as possible as there were so many people to see and so much food to eat! We started with breakfast at my favorite little tea room; a place where there is tea served, and where right outside you can buy big rolls of freshly baked bread and boiled sweet potatoes from woman sitting by the entrance. After breakfast we spent some time at the health center, chatting with mothers who had given birth last night and their guardians that had accompanied them. They were so excited to see us and wanted Betsy to hold their babies and take pictures of them. During all of this I was able to greet all my old colleagues that were working the half day on Saturday. It was so great to see so many old faces that I once saw everyday and catch up with people that I truly care about. They all wanted to know how living in the capital was and if I was liking my new role as a Response Volunteer. I responded by letting them know how much I missed being able to wear my sandals and chitenje to work and they all just laughed, knowing that that was my attire for two years while living in the village.
When they found out I am now wearing skirts above the knees and that my feet are usually clean and my hair brushed there were even more giggles—like I had changed into a completely different person over the last 4 months. They called me a "bwana" meaning "boss" or someone with money who usually lives in the city, and I had to remind them that'd I'm still a Peace Corps Volunteer, despite my city status.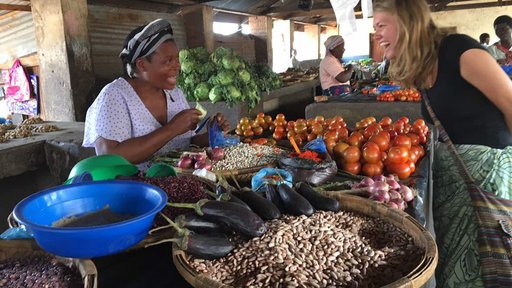 Betsy and I then had the pleasure of taking my friend Manaly to get chips in the market, at a place I ate almost every single day while living in in village; Gerad's Chips Stand, or as I liked to call it "The Best Chips in Chipoka". His stand is outside and sits right next to a place where people got their bikes fixed, so I saw a lot of people I knew and was able to chat with the bike maintenance men. We sat munching chips and cabbage with Manaly and Gerad and before I knew it, my friends were also Betsy's friends and we were all hanging out as if I had never left.
Once our bellies were filled again we walked around the market saying hello to all the shops and ladies who I used to buy my food from daily. The tomato ladies had so much to say and I could tell were as happy to see me as I was to see them. It felt nice speaking Chichewa again (where as in the city I mostly speak English) and to chat with my local friends who I'd bonded with over vegetables for two years. We bought some greens, tomatoes, onions, and eggs, and then headed to my landlord's house where we had planned to eat lunch.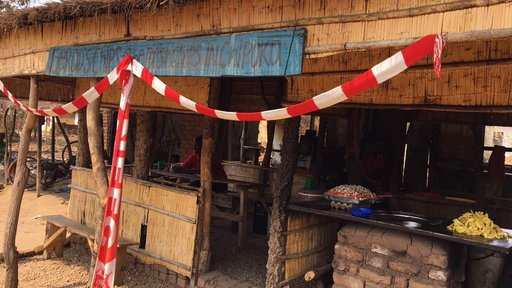 When we arrived back at my landlord's we were greeted by his wife, Kathryn, who had just returned from church. We helped her prepare another meal, our third of the day although it was only noon. Betsy and I chopped onions, tomatoes, and greens while Kathryn started the fire—something I don't miss at all now that I'm living in the city with electricity. Betsy also learned how to make nsima, which is quite the experience because the outdoor kitchen becomes so full of smoke that you practically have to do it with your eyes closed. Her eyes were watering so bad and I'm sure they stung as well but I was impressed how she stuck it out and helped Kathryn until it was finished. 
After the food was prepared, the three of us sat out on the grass mat eating for the next few hours. Betsy and I enjoyed our company and I felt so grateful to be able to see my Malawian mother and share a meal together after not seeing her for four months. Being back in this place that I spent the last two years building a home was emotional and reflective, and it only made me want to return again soon.