Returning to Malawi: One Year Later
I carefully slid the photo out of my journal to show it to the man sitting next to me and explained in Chichewa that this was where I was going—to see my family.
He eyed the glossy photograph of seven people wearing matching purple zitenje. Then he grinned and looked at me in disbelief, not really believing that this azungu who stood out in the photo, as well as on the bus, could actually be a part of that family. 
I was sitting in the front seat of a mini bus traveling a route that I knew by heart. From flag-down attempts in the blazing sun to bus breakdowns to getting caught in rainy season downpours, every section of the road held memories. My heart flooded with excitement and nervousness at the thought of seeing my old village again. I wondered if the kids would remember me, if I would be able to communicate with my neighbors who barely spoke English, if there would be a bicycle available at the road junction to "taxi" me five kilometers up the dirt road to my old village, and if I would break down in tears upon seeing the faces of my younger siblings. When the massive and stunning Mulanje Mountain came into view, a cue that we were getting close, I reflected on the last time I'd seen it. It had been one year since I'd finished my 27-month Peace Corps service. I remembered watching this mountain slowly fade into the morning horizon from a taxi window through tear-stained, puffy eyes.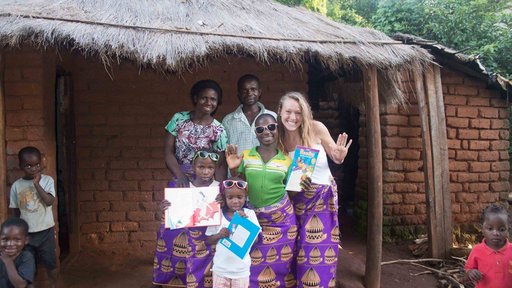 I reflected on the first few days I spent in my village; I had moved into an empty house and into a community of people who spoke very little English. Everything seemed so overwhelming, chaotic, and completely different from what I had been used to in America. The little paths around the village were confusing and maze-like, and I had no idea where to find anything. Over the course of the next two years I found my way around my village by exploring practically every possible trail. I learned to cherish my independence and the easygoing attitude of this type of lifestyle. I integrated into a rural, close-knit community to the point that it reminded me of the small town in Georgia where I grew up.

When I arrived in this same village three years after my initial introduction to it, I felt as though I was returning home. My motorbike puttered and dodged its way up the mountainous road, and people turned their heads to look at who was arriving. As a Peace Corps Volunteer, I had been a regular traveler up and down this road with my big blue backpack, and most people had known my name and purpose for being there. This time, people were confused whether it was me or the new Volunteer who replaced me. Most looked at me with confusion on their faces as we sped past them, while others recognized me and cried out "Ehhhh-mma!" while waving frantically.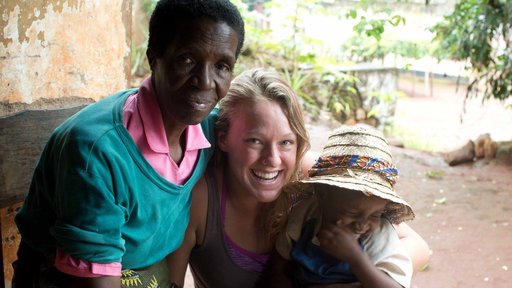 When we arrived at the health center where I previously worked, a mob of my favorite neighborhood kids came running to help me carry my bags, a customary welcoming gesture in Malawi. We walked together, igniting excitement and surprise at every house we passed, as we crisscrossed our way up the narrow footpath to my old house. I soaked in my surroundings and noticed that very little had changed. Sure, the ever-present bicycle taxis had been replaced with motorbikes, a few mini shops had upgraded from bamboo structures and thatch roots to mud bricks walls and iron sheet roofs, and thick electricity wires were being dragged through yards and across roads to connect more homes to the new hydroelectric power grid. But for the most part, things remained the same as they were twelve months prior. The road up to the village was still dirt and full of rocks, most of the tea sheds and homes that had crumbled or collapsed during the 2015 floods still sat abandoned, and the same women still sat along the road selling fried donuts, thobwa, and bread buns.

When we reached the yard of my old home, I heard squealing, and my Malawian siblings and mother came running down to welcome me. We hugged and exchanged greetings in Chichewa; unable to believe we were together again. Over the course of the next two weeks, I spent most of my time chatting with old friends, colleagues, and neighbors.  I wandered around the village, running into people who couldn't believe I was back. Everyone wanted me to come to their homes and eat nsima with them, and I was thrilled to do just that. Feelings of reassurance and gratification descended over me as I focused on appreciating my brief time in this community again. Between Chichewa flooding back into my mind, sharing plates of nsima (that I'd actually grown to miss while I was away), and the warm welcome I received from seemingly everyone in the village, I couldn't have been happier to be back. These special interactions and moments were when I truly understood the depth and effect of my presence in this community and realized that those two years had not been special for just me.