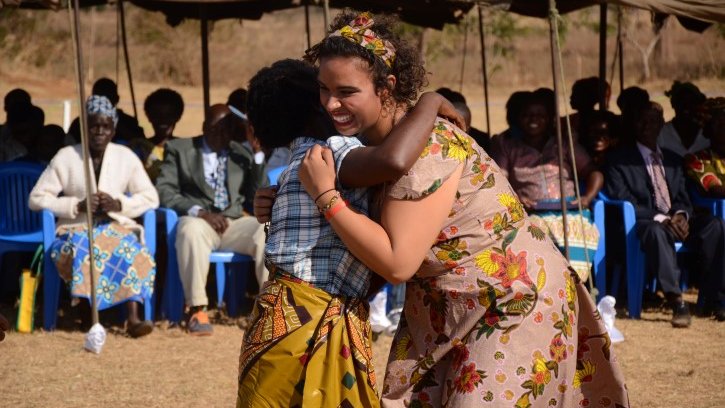 March 27, 2018
I stare at the smoking mbaula with complete frustration. My watch beeps, signifying that, yes, 9am is here and, yes, I have tried to meticulously light this fire for the past hour. All I want are eggs for breakfast, but it seems like I will be drinking my coffee with charcoal smoke and an empty stomach.
Accepting defeat, I start to clean my kitchen, a little outhouse of sorts with holes as windows and a tin roof, when I hear a subtle "Odi!" come from outside my reed fence. Little hands push open the gate to reveal my miniature-sized neighbors: a group of 7 kids that always come to chat and play with the new Azungu who moved in 3 weeks ago. With the majority of my energy spent on the unlit fire, the brain power necessary to arrange the proper Chichewa verbs and nouns to politely say, "I'm busy," could not come together.
Taking my silence to mean an approved welcome, the children enter my yard with the kind of excitement only seen at SeaWorld dolphin shows. After noticing the mbaula and matches firmly held in my hands, the kids scatter across my yard to gather dead leaves and small twigs for kindling. In five minutes, a small fire is burning bright, the smell of eggs takes over my senses, and 7 little kids anxiously await the chance to sit in my hammock and giggle.
Since moving to Malawi in June, this is not the first time I've experienced this sort of needless kindness. For the first 11 weeks in Malawi, I stayed with a host family in the Central region. They fed me; taught me how to pull water from a borehole; how to maintain mud floors; how to properly wear a chitenje; how to start a fire (I need more practice, obviously).
Although they were provided with all the supplies necessary to keep me healthy and clean (this was their job, of course), they treated me like I was their long-lost daughter. When I was sick, they made extra food, pushed me to rest, and made sure the neighbors visited regularly. They scolded me when I paid too much for an orange or a guava, determined to teach me new words to use when a vendor is overcharging me at the market. Every night, my host brothers would sit and play cards with me, knowing that I had little time to really relax—and that something as simple as playing Uno could stifle any homesickness that would seep into my busy schedule.
This family of five lived in a 3-room house with a thatch roof. They wore the same clothes everyday and ate by the light of a small, unreliable solar light. My amayi woke up everyday before the sunrise to heat water for baths, porridge, tea, and laundry. Meanwhile, worried about the security of my belongings in my room, my abambo walked from his work in the fields to my training hall only to ask if he could close my window.
This kindness had no gimmicks. Malawian culture is grounded firmly in the importance of family, generosity, and hospitality. Juxtaposed with the extreme poverty they faced every day–to say that this did not bring waves of culture-shock for weeks would be a lie.
For here I was, the majority of my time spent sitting in intensive trainings and language lessons, learning how I can aid my new community to teach and combat gender inequality, lack of qualified teachers, little to no resources, large classroom sizes, and absenteeism due to students travelling 20+ km to attend class–and yet, none of the training could prepare me for the reality check I would undergo. As a citizen of the United States, I am used to living in a place where people who might have everything are more likely to give nothing for fear of losing it all.
Now, I was living in a place where people who have nothing give you everything without a second thought.
Sure, Malawi is far from perfect, but these moments remind me how humility ultimately fosters kindness and understanding. Sometimes it comes in the form of neighbors religiously checking on you to make sure you have enough maize flour to make nsima (the main staple of all Malawian cuisine). Or maybe it is a child bringing you a mango they fetched from a tree just because the only thing they could understand from your Chichewa chatter was that you couldn't wait for mango season.
Either way, as I settle in to my new home, I am thankful for this kindness (and friendship) that literally keeps me fed on a daily basis.
I plan to pay it forward. So, this morning, I'll eat my eggs and listen to the sound of a hammock shifting and giggles galore.