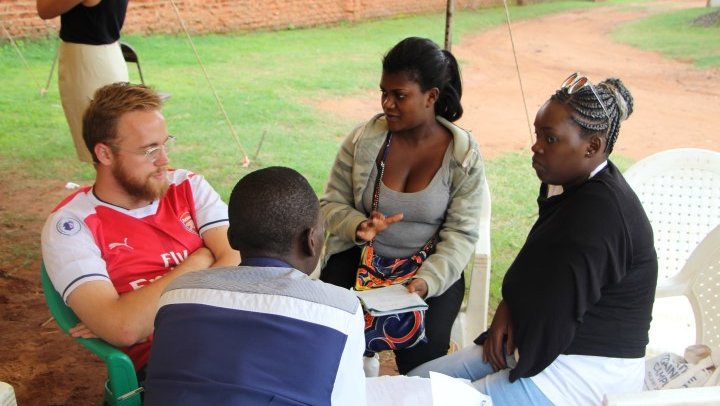 May 31, 2018
As I climb in the tuk-tuk (a small motorized covered almost-tricycle-like thing—you know what, just google it, this is a bad description), I ask the driver "how much?" in Chichewa. He answers and then I get in. Then the familiar question comes: "How long have you been in Malawi?" "Chaka chimodzi," I answer. One year.
It's one of the first things that all of us learned how to say in our languages, because it's one of the first questions we're always asked. I remember when it was just a few days or weeks so it was easier just to give the memorized phrase for the date: "I arrived here in Malawi on 8 June chaka chino." (This year). Then the number of months grew. Each month felt a little more surreal and strangely less surreal. Eventually I was saying "pa 8 juni chaka chatha" (last year). Then in April we hit double digits—10 months. Now a year.
What's odd to me is how strangely normal everything feels at this point. I can remember waking up during Pre-Service Training (PST) or right after leaving for site and thinking how weird it was to live here, to actually live here and not just be visiting. How weird it was to go to town and actually communicate with people in the local language. How strange it is to begin to slowly understand cultural things and not need someone to explain every single thing. At this point, it's all my new normal. At this point, I've been here long enough that it would be a shock going back.
That's not to say that I don't still have issues. I do, just like I would in America or anywhere else in the world. Minibuses can still be frustrating, I can still fail to understand a culturally related problem, my Chichewa still isn't 100% perfect. But over the course of a year, these things happen less frequently. The process is so gradual that sometimes I don't even notice.
I don't feel that I've become jaded or burnt out (as some people say happens to people in development after they've worked for a while), but I do feel that I've become more realistic and practical. There's an old ad for the Peace Corps; a drawing of a shovel and the phrase: "Peace Corps: Bringing idealists down to earth." In many ways, this epitomizes my year. Peace Corps has not hindered my idealism, but has given me a vehicle to express it in a meaningful way.
So much has happened in a year. PST was a whirlwind. One day after another loaded with information. I was sent to a new site in the South and was only there for a month and a half before being evacuated due to security reasons. I was consolidated in the capital city for a month. I was sent to a new site, which had significantly less amenities than my old site, and forced to deal with the very emotional prospects of leaving my old community without saying goodbye or explaining why I had left. I considered going home to the States. I'm so glad I didn't.
I began teaching at my new school. My head teacher passed away due to a car accident. But we continued teaching. I started projects. I explored the rest of the country. So much has happened. It's been a roller coaster. They say Peace Corps is often a time for self-reflection and learning about yourself. I do feel that I know myself better now. It's difficult to explain. But it's true. I regret nothing about being here.
Today I came to the capital to prepare to welcome in the new cohort of incoming Trainees. They will be here in just a few days. During PST there are "Resource Volunteers" each week, volunteers from each sector who have been in country for one year and then come to PST (changing out each week) to help with training. I'm the "week 0" Education Volunteer, which means I get to go and welcome the new cohort! I'm excited for that.
It also means that on the exact one-year anniversary of arrival in country, I will be at the exact same place I was last year, in the exact same setting, with a different role. I'm excited to see what the future holds, not just for the rest my service, but also for all of the incoming new people (if any of them happen to read this—takulandirani!)
There is much more time left! One year down and one year to go.
So the possible answers to "how long have you been here?" will just keep growing