Jane Whitney: 83 and Serving in the Peace Corps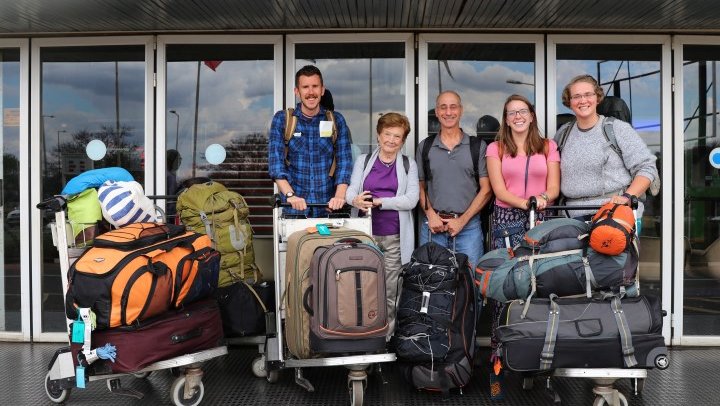 June 18, 2018
Peace Corps service has been a lifelong dream of mine. And I mean Peace Corps' life, not mine…because I am older than the Peace Corps!
My path in life has had many unplanned twists and turns, involving several unexpected but satisfying careers.  After college I married and taught Math and science in junior high school until my first child was born.  I lived a pretty conventional life for a woman who grew up in the '50s. My main career was raising my three girls. However, I also did a lot of community service and volunteer work. This service work was very important to me, especially my involvement in improving race relations and integration in my area. I helped start an integrated summer camp, facilitated school busing, and helped establish a Hispanic Center. I even helped serve breakfast to inner city school children with the Black Panthers. I also had my own puppet troupe. 
Suddenly, due to my husband's illness and our lack of health insurance, I had to go to work.  All my important volunteer work, community leadership experience and education did not count in the "real world." The women's movement was just starting and I was a 40-year-old woman with no job skills – 3 strikes.  I found temporary hourly work job coding pension plan information for a large insurance company.  In a room of 500 workers, all with heads bent over the coding sheets doing repetitive work, I developed the requisite skills to succeed in business. I found this pool other women who, like me, were highly educated and skilled, but forced by circumstances to into an unwelcome environment.  We supported each other and all succeeded.  This is a happy story. Seventeen years later my girls were grown, husband better, we had lifelong health insurance and a resume full of marketable skills. I elected early retirement, and left my career as Director of Financial Planning at CIGNA to pursue my next career.
I [decided I] would join the Peace Corps. It had been my dream ever since Kennedy established the Corps and service was in my blood.  However, from the information, it seemed to me that I was not qualified. Another dream of mine was to be effective in health care, and help address the problem of suffering due to a lack of world-wide access to quality care. The plan was to become a health care professional and then join the Peace Corps.
I look back on this plan and find it laughable. Did my ambition and optimism know no bounds? I was accepted in the Physician Assistant Program at George Washington University and plunged in. I sold my house to pay for school and then, to my joy and salvation, learned that I won a National Health Scholarship – a full ride. It was only after graduation that I learned that the Peace Corps did not take PA's as Volunteers. I might have done better research, but again this ends as a happy story.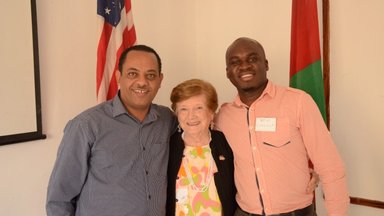 For the next 15 years I worked as a PA in various rural public health clinics in the States and non-governmental organizations in Africa and Asia. I have always traveled.  I am particularly drawn to places off the beaten path.  I also like to stay in a place and get to know it rather than tour.  Peace Corps is ideal for that. Being a [PA abroad] brought together all the things I love to do: community service, health care, travel and adventure. Along the way, however, I got to be 80 and I aged out of the job market…but not the Peace Corps!
The Peace Corps at last. I was not ready to stop work that I loved when I heard about Peace Corps Response. As a Response Volunteer I could not practice as a PA, but I could develop programs and build health care capacity.  I was accepted and sent to Malawi, where my position working in program development and capacity building with Baylor Medical School's Tingathe Project, an HIV initiative. I feel so privileged to serve and so grateful for this amazing opportunity.
The most challenging part of Peace Corps service is missing my family members and friends—as an 83-year-old, I have more of them!  I planned for the isolation of Peace Corps but really did not follow the plan. I didn't read "Moby Dick" or follow a yoga tape. I got a lot a navel gazing done, however.
Although I am not given to sugary statements, it is true that the opportunity to serve and represent the United States is a rare and amazing privilege. At 83, I am the oldest currently serving Volunteer in Peace Corps. As an older Volunteer, not only do you have some well-honed skills to offer, but experience makes edges softer and it may be easier to cope with some of the problems you'll face in service.    
I feel like I'm in a Dr. Seuss story: Oh the places you will go and the people you will meet!