'Time waits for no one, so we better make the most of each day.' These words ring in my ears as I reflect on my time spent in Malawi.
Over a year of missed holidays, weddings, birthdays, and anniversaries of family and friends back home has been one of the hardest parts of this journey. This, though, cannot compare to the challenge of serving solo as a Volunteer in Malawi, while my husband is back at home.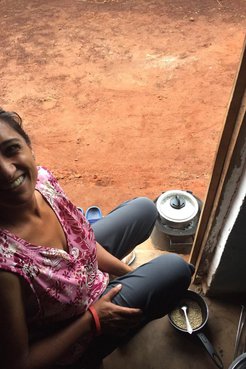 The challenges of our situation are vast. Dealing with phone calls over time differences and trying to describe this lifestyle to someone who had not previously seen or experienced this way of life was difficult. Especially in the beginning, most of our conversations involved me attempting to explain my daily routine and household chores: drawing water, taking bucket baths, using my outdoor pit latrine, cooking on a clay mbaula, making fires, listening to the rain on tin roofs, describing my work place and local market, and the list goes on.
After the first few months, I realized that the picture of my life was becoming clearer to him. The novelty of the change in lifestyle gradually faded for both me and him, and my husband became more aware of and knowledgeable about the reality of my experience. Sending photo and planning video chats also helped this process. He now typically knows at what time I will be doing what throughout the day, which makes it easier for both of us to communicate accordingly.
We have managed to span the distance with video chats on birthdays, anniversaries, and other family get-togethers. When he is able to video chat with my neighbors and counterparts here community, it connects him to these people who are big parts of my life. This way, he feels like he is part of my service. Our long-distance marriage has many challenges, but it also has charm.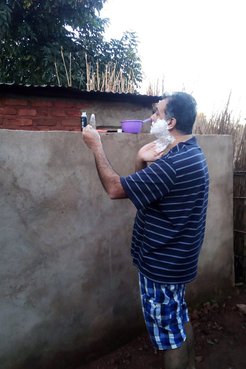 I have incredibly fortunate to have had a very supportive other half through my whole experience with Peace Corps. Since beginning my application to now, my husband has encouraged me along the way. I am especially lucky because he was able to come visit me in Malawi midway through my service. Because of that exposure to this country, culture, and place, as well as our shared experience while he was here, he is now able to relate to my stories and imagine the faces of the people with whom I interact regularly.
It was also nice for my Malawian friends and colleagues to get to know more about me through meeting and interacting with him. This definitely aided in my cultural integration. Almost every woman my age in Malawi is married, so when my community had the chance to meet my husband, it bonded us. Women are able to relate to me better, as a married woman living away from her husband.
It's 5:30pm. I message him "let me start fire and finish cooking, eating, doing dishes and close up house. Shall chat once under bed net." When I make an effort to explain these things to him, it comforts him, making him feel he is part of my routine.
As time passes, sometimes I get very absorbed in my work and routine. That is one struggle I've faced because sometimes I have felt somewhat distanced from what he may be feeling or doing back home. Especially in the beginning, my life was so full of new and novel experiences that, at times, I would forget to acknowledge my husband's life back home. I have countered this by making a conscious effort to talk to him each day regarding his life and routine. This simple act reminds him that I am still here for him emotionally as a support system. It also shakes up my routine here too hearing about a far off land and time.
Sharing every little aspect of this Peace Corps service, both the highs and the lows, has created an open, trust-filled relationship between my husband and me. The connection unites us with love and trust and makes us more considerate of each other's feelings. Sure, there are still times when we argue. However, I have found that these incidences are sparse especially since we don't see each other daily. Ultimately, the distance between us has bridged any conflicts. As does having someone to whom I always say goodnight at the end of the day, and of whom the idea makes my next day at service more enjoyable.
I always feel distance makes love go fonder. Of course there are moments of sadness and loneliness, but service solo, as a married woman, reminds me of my strengths as well as our abilities to navigate our relationship as we are physically apart. The distance almost seems to re-energize and renew our bond to each other, reminding me of our younger days and also our everlasting desire to be together forever.
---