Dec. 29, 2018
Serving as a Peace Corps volunteer in Malawi offers a series of contrasts to life in the United States.
Trading four-lane, paved highways for bumpy, dirt roads. Giving up the comfort of consistent cell service for the unpredictable and spontaneous bursts of 3G that come at the most random of times. And, when you feel as though you just CANNOT cook another meal, instead of relying on the drive-thrus of McDonalds or Taco Bell, you rely on your neighbors who welcome you into their homes with open arms and a seemingly endless supply of nsima.
However, even with the plethora of differences experienced on a daily basis, Malawi offers a multitude of similarities to life in the United States; similarities that are illuminated in vast quantities during the holiday season. Presents (although in smaller quantities) are exchanged with family-members and loved ones. Traveling is a nightmare. Abnormally large meals are enjoyed and shared with neighbors. And the overwhelming urge to be comfortable, warm, and in the presence of family increases substantially.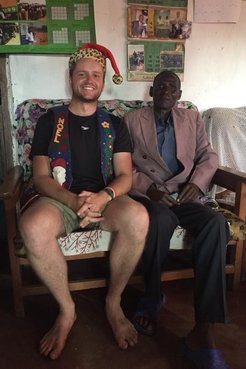 It would be a lie to say that I am not thinking of and missing my family in the United States more than usual this time of the year. The traditions, food, celebrations, and time with  loved-ones are something that I cherish every year and being away from that is not easy. The urge to be comfortable and surrounded by familiarity, family and the Christmas ham that I can picture sitting on my kitchen table is enough to produce a few tears.
Lucky enough for me, even though my biological family is 8,000 miles away, my Malawian family is only a mini-bus ride away.
As I write this I am traveling from Chitipa (the northernmost district in Malawi where I teach secondary school English) down to Kasungu, where myself and 61 other Peace Corps trainees spent more than two months learning how to be Peace Corps Volunteers. During this intense, two-month period, each trainee lived with a different host-family who helped teach us the local language, how to draw water from a bore-hole, and how to correctly start a fire (no, lighter fluid is not an option here). While these "technical skills" were necessary for us to develop, the lessons we learned from our families outside of educational hours were, in my experience, life-changing.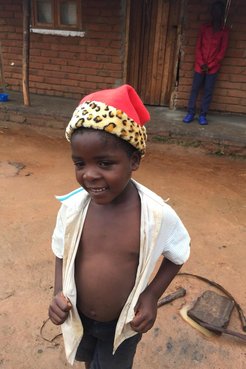 My host-family includes my mother (amayi), father (abambo), sister (Emmalita), and three brothers (Mischek, Bolino, and Chikaiko). Along with how to wash my clothes without the use of a washing machine and how to cook nsima, they taught me that you can grow to love six people in just a little over two months; that families can extend far beyond your biological mother, father and siblings; and that your geographic location doesn't necessarily need to dictate where your home is. While I am still missing my biological mom, dad, and sister this holiday season, it is comforting to have a second family where the same sense of familiarity and warmth is present no matter the situation.
As I continue to travel south, the more excited I am to reunite with my second-family. While the Christmas ham will have to wait another two years, what makes Christmas special will still be present this year: warmth, time with loved ones, amazing food, and a sense of comfort that only certain people can create. As I reflect on the past year's experiences and the similarities and contrasts between Malawi and America, the more I have come to appreciate family and what it means to be part of one. While I am sad to be missing the holiday season in Virginia with my loved-ones, it is comforting to know that I'll still be spending Christmas day with family.