From Counterpart to Program Manager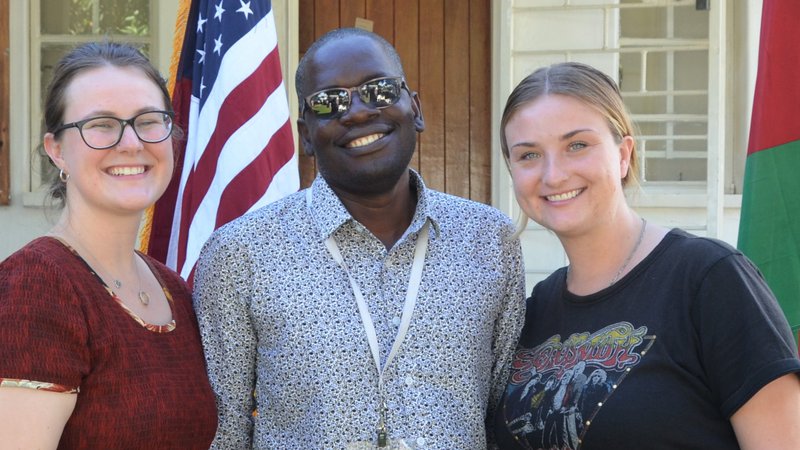 March 14, 2020
It was a bright Monday afternoon in the year 2000, and a rumor was floating around amongst our staff.
I was working as a Health Surveillance Assistant at Namitambo Health Center in Chiradzulu District in Southern Malawi at the time. Everyone was talking about the news. We had heard that there would be an American posted to our Health Center. At the time, I assumed that this person would either be a nurse or a clinician considering the fact that we had a shortage of clinical staff at the time, but, in reality, I had no idea what to expect of this newcomer.
Later in the week, the American arrived in our community. Her name was Cindy, and she was able to communicate in basic Chichewa. I was immediately impressed. She showed me her Peace Corps Volunteer Site Handbook which laid out the goals and objectives of her Peace Corps service in Malawi. As a Health Volunteer under Peace Corps Malawi, she was posted with the primary goal of assisting our clinic in conducting health outreach and promotion activities. Cindy was particularly interested in working on nutrition talks and programs. At that point, I was already doing a lot of outreach work focused on HIV/AIDS among the youth population of our community. However, I was also eager to conduct more nutrition-related programming, so it seemed a natural fit that I would work with her.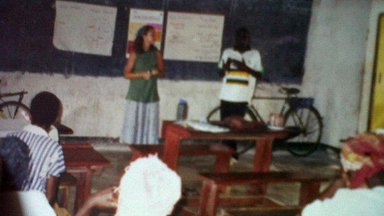 Cindy and I found a niche in teaching life skills to out of school and in school youths, especially focused on sexual and reproductive health. At this point, I was christened as her official counterpart after being invited to a Peace Corps Malawi Counterpart Workshop. While there, I learned so much more about Peace Corps, and from that point on, I was particularly interested to learn more from and collaborate with Peace Corps Volunteers.
In 2001, which I remember in particular because Cindy talked to me about the 9/11 attack in the United States, Peace Corps had received a special grant from Umoyo network. This grant was to be used to train secondary school students in Sexual and Reproductive Health. However, the facilitators had refused to teach at the workshop for compensational reasons. I had been invited to this retreat with expert facilitators as a participant but it turned out that I was the only adult Malawian present at the workshop. To my surprise, I was asked to, along with the Volunteers, facilitate lessons at the training. The Health Program Manager for Peace Corps Malawi at that time, Edith Mkawa, came to supervise the training and offer moral support to the Volunteers because of the 9/11 attack. What she found was me facilitating to the participants! She was impressed by my skills, and from then on continued to invite me to assist with other Peace Corps Malawi training such as In-Service Training and additional Life Skills Trainings organized by Peace Corps Malawi. This was the biggest turning point in my "career" with Peace Corps Malawi.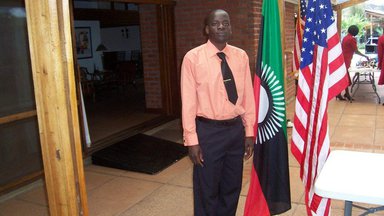 A full and successful two years of service later, Cindy left Namitambo. I will never forget her because she is the one who brought the light to show and believe in me. We carried out countless interventions together and shared our respective cultural backgrounds, foods, and many stories. The time I worked with her was the first time I had worked with an American full time. We used to plan sessions together, and she was the one who introduced me to the Peace Corps approach to development that incorporates the premise that people are always doing something positive naturally and the important thing is to nurture that whilst addressing other challenges they might be facing.
After Cindy, two more Peace Corps Volunteers were placed with our clinic. From 2002 to 2004, I worked alongside Bill Price. While we continued doing much of what Cindy and I had begun upon, Bill was also interested in introducing Income Generating Activities to groups of vulnerable women. We also worked with a start-up Women's Support Group, training them on the topics of counseling, nutrition, and advocacy.
Another American named Cindy arrived in 2004 and served until 2006. Her name was Cindy Zickafoos. This was the next big turning point in my time with Peace Corps Malawi because it was during these years that I applied for the position of Health Technical Trainer for Peace Corps Malawi's Pre-Service Training. This takes place over the first few months of Peace Corps trainees' time in country, when they learn extensively about culture, language, lifestyle, and technical skills necessary for their positions. This was a fantastic experience for me as well. I was given the responsibility to facilitate sessions for trainees. This was extremely eye opening as, in preparation for their arrival and training, I myself was trained in pedagogy approaches, how to write learning objectives, ways to incorporate practicums into training, and also assessment methodologies. I had the opportunity to interact with a range of American trainees from diverse backgrounds, many with degrees in Public Health. It was during that time that I decided to enroll for a Diploma in Public Health for myself, inspired by their depth of knowledge and dedication. I enrolled for a bachelors in Public Health in 2012 and graduated in 2017. But I didn't stop there. I am currently studying for a Masters in Development Studies and plan to graduate this coming May.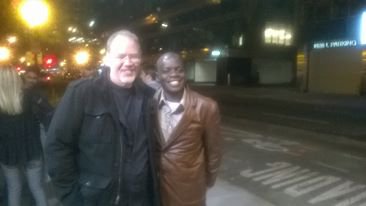 Besides being inspired to pursue my own education, I also began a career with Peace Corps Malawi in 2014 when I was employed as a full time employee. At that time, my role was as a Program Assistant for our Global Health Service Partnership (GHSP) program. This program brought nurses and doctors to work as adjunct faculty in tertiary training institutions in Malawi. In 2017, I switched positions to Program and Training Assistant for our Education Program. After spending quite a bit of time garnering experience in mainstream Public health, I was interested in doing something a bit different but still in the realm of rural development. My time working in the education sector opened my eyes and expanded my appreciation for the impact that education has on development across many aspects. During this time, I was able to better understand the challenges that exist within the Education sector in Malawi, ranging from meagre teaching and learning resources and poor infrastructure to a high teacher-student ratio which students far outnumbering teachers in the classroom to a detrimental end.
From there, I continued climbing. In September of 2019, I accepted a position as the Response Program Coordinator for our Peace Corps Response Volunteers. Our Peace Corps Response program places highly skilled Volunteers with different partners in Malawi in order to serve a specific, pre-determined role. So far, I have really enjoyed managing such a wonderful program, and it has taught me a lot.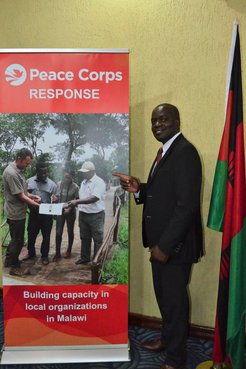 I feel very lucky to have had such an evolving experience working with Peace Corps Malawi. My time working with Peace Corps has taught me that you don't always need money always to make a difference. Rather, the most important thing in development work is to make yourself available to the people with whom you're living and working. You must understand them, their lives, their challenges, their barriers to success, and their biggest needs. As the adage says, "the one who wears tight shoes knows where it pinches most." Putting your target population at the heart of the development agenda will yield the strongest results.
Over 19 years, I have given my time, energy, and knowledge to working with Peace Corps, and yet I have received so much in return. I've learned to think outside the box, to always in yourself, and to 'never say never.' The most rewarding part of my job is when I get the opportunity to visit communities and to see the difference that Volunteers are making. Hearing stories of girls completing school with the encouragement of a Volunteer, youths being tested for HIV following a Grassroot Soccer intervention, and seeing a Girls' Hostel constructed with the assistance of a grant written by the Volunteer are among my favorite outcomes of Volunteer impact.
The best advice that I can give to future and current Volunteers is that at times during your Peace Corps service, you may feel powerless against the massive challenges that people face. However, trust me, even just your presence and the small interactions you have on a day-to-day basis will make an impact on people. You may not see the results, but they will be obvious many years later. The reason I know this is because I, myself, am a product of the kindness and motivation of a Peace Corps Volunteer.