Challenging Cultural Norms to Inspire Girls & Women
At home in the U.S., I embrace my Hispanic roots deeply by eating Peruvian food, speaking Spanish to my family and peers, and simply being around other Peruvians.
I was first inspired to join Peace Corps because I wanted to represent my culture and bring diversity to the agency. With only 12% of all Peace Corps Volunteers identifying as Hispanic/Latinx last year, I serve as a representative of the rich diversity of America. I feel privileged to be a part of that small group and also to introduce my Hispanic culture to a Malawian community.
My Hispanic roots have helped me to integrate into Malawian culture without much difficulty. Some common customs in Malawi overlap with Peruvian culture. For example, greeting each person who I pass is, to me, a very normal way to acknowledge people respectfully. Everyone is considered family in Peruvian culture and the same is true in Malawian culture.
Additionally, as someone who grew up in a dual-language household, I understand the importance of being able to communicate with people in their native language. I am fluent in both English and Spanish and, when I moved to Malawi, I also began to learn the local language of Chichewa. Sometimes, I feel self-conscious when I make mistakes in this new language, especially because I already stand out here as a brown-skinned American. However, people are always happily surprised when they hear their mother tongue exit my mouth and that gives me courage to continue trying and learning.
Aside from cultural exchange, I had a second reason for wanting to join Peace Corps. I desired to educate and inspire youth, especially girls. I am encouraged to do this because of the hardships I have seen and gone through in my own life.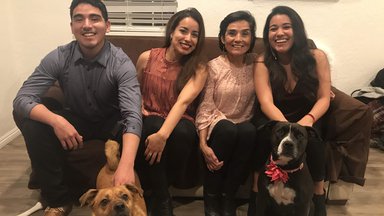 I feel honored when reflecting on how my culture and values shaped me into who I am today. I would like to recognize my mother's role in this process. Growing up with a single mother, which is not common in either Peruvian culture or in Malawian culture, taught me that females are 100% capable of doing what society may classify as a "man's job." My mother worked two jobs, one of which was a night shift job, while also raising three kids. However, I never once hear her complain, and she always encouraged us to pursue our education as a way to succeed in life. She served as the ultimate role model for me and shaped me into the independent woman that I am today.
I am currently serving as an Education Volunteer with Peace Corps Malawi. One of the biggest challenges I face in my service in Malawi is the fact that I am the first female Volunteer in my community. I am also the only female teacher at our secondary (high) school. This comes with its share of difficulties. Not only am I the first Peace Corps Volunteer at my community, but I also do not fit the typical norm of what people may consider "American." Additionally, living in a house by myself is not common in Malawi. Most women do not live alone, so my community is constantly concerned about me. However, I am always reassuring community members that it is okay for me!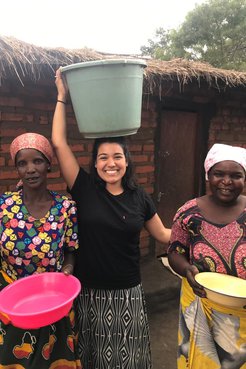 So not only do I represent the diversity of America to people in my community, but I am also able to serve as an example of a strong woman to female students at our school in our community. During my service in Malawi, I hope to promote the idea of gender equality. While I have only been at site for a few months as of now, I have big plans to introduce various activities that create an environment in which girls feel empowered. I would like to encourage girls to feel a sense of authority over their own bodies as well as to stand up for themselves and their education.
I came to Malawi with an open mind and heart. The similarities between Malawian and Peruvian cultures have allowed me to already feel at home. Both cultures tend to pressure girls to follow certain gender norms. However, I want to serve as an example to girls in my community that it's possible to challenge these norms, endure hardships, and follow their dreams.
---