GLOW – Inspiring Future Female Leaders in Kosovo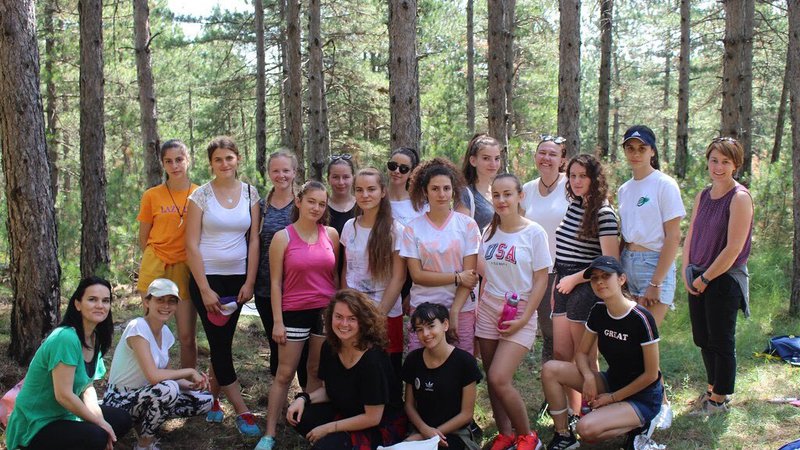 Sept. 19, 2019
The sounds of laughter and singing fill the air.
GLOW promotes and fosters the belief that young women can make positive changes in their communities.
Girls are surrounding the campfire to roast their marshmallows and experience an American classic – s'mores. That campfire provides warmth and lighting, but it is also providing learning lessons and new experiences. It is the first night of GLOW Camp, and I feel fortunate to be a part of this moment.
GLOW (Girls Leading Our World) Camp is a gender empowerment initiative which began in Peace Corps Romania in 1995. Since then, it has flourished in dozens of Peace Corps posts throughout the world. The establishment of GLOW in Kosovo aims to develop leadership skills and civic engagement in young girls throughout the country. GLOW promotes and fosters the belief that young women can make positive changes in their communities. Young women are encouraged to become active citizens by building their confidence and life planning skills.
When I was applying to Peace Corps, I did extensive research on the types of projects available for volunteers to facilitate. GLOW immediately caught my eye due to the personal development, leadership, and gender empowerment aspects it encompasses. I noticed that Kosovo did not have a GLOW Camp officially established. Therefore, I made it a personal goal to help set one into motion. I accepted my invitation to serve in Kosovo, and I was thrilled to begin working.
Kosovo is a relatively new Peace Corps post. I am a member of the fifth cohort to serve here. Though GLOW did not yet exist in Kosovo, I learned that it had been a goal for volunteers since the post was created. Previous volunteers had designed trainings to teach Kosovar women soft skills and engage in gender norm conversations. Their efforts helped set the stage for GLOW to become a reality in Kosovo.
Planning for GLOW began in autumn 2018 with the intention to hold the camp in summer 2019. In order to advocate for the camp, I researched some gender issues in Kosovo. According to the World Bank, Kosovo has one of the lowest female employment rates in the world. Less than 18% of women in Kosovo are employed. Some other volunteers and I interviewed multiple ethnic groups in order to gain perspective on why this problem persists. The response was similar for each person interviewed. The first thing often mentioned was the impact of the Kosovo War in the late 1990s. Families were recuperating from the war, and they prioritized protecting their family unit. Consequently, most women's education and careers were impacted, which lead to low female representation in the job force. However, older generations expressed hope for young women growing up in today's Kosovo.
With this in mind, a plan was proposed for GLOW to motivate future female changemakers. The support was instantaneous. Peace Corps staff provided much advice and encouragement during the grant writing process. Other volunteers were also eager to assist in running the camp. Additionally, we found support in a community partnership with YMCA Kosovo (also known as George Williams Youth Association). The YMCA was collaborative and offered their camp planning wisdom, camp facilities, and staff to lead exercises.
As a result of such support, Kosovo was able to host its first GLOW camp. Kosovo is a multiethnic country with multiple languages spoken here. Therefore, two camps were held
simultaneously and separately. All sessions were conducted in English with support options in the girls' native languages. One camp had Albanian language support while the other had Serbian language support. Seventeen young women, from grades 9-12, were able to participate in GLOW activities. The girls came from all over the country with various backgrounds and interests. The schedule carefully balanced educational content with recreational activities to allow for learning and bonding.
One of the major successes of GLOW is the relationship building which occurred. GLOW brought girls from all over the country to discuss issues which affect their daily lives, such as body image. Campers discovered that they had shared experiences with these issues regardless of their diverse backgrounds. It was rewarding to see the girls open up to each other and form bonds.
The relationship building also happened naturally, outside of the educational sessions. During the first day, I was slightly worried about the girls being shy with one another. They had come from all different parts of the country, and most did not know the other participants. However, those fears were quickly put to rest. Later that night, YMCA staff demonstrated how to build a fire. This was followed by campfire activities such as games and making s'mores. At one point, I stepped away from the group to grab more supplies. When I returned, the girls were playing music and singing together. This was an unplanned activity – just a wonderfully authentic bonding moment for the girls. I could not help but smile at the beauty of that moment.
Another GLOW accomplishment would be the focus on healthy behaviors. Some sessions focused on mental wellness such as yoga and mindfulness. Girls learned how to manage stress and be aware of their emotional wellbeing. Other sessions focused on healthy habits which impact communities and the environment. All participants were given a reusable water bottle and cloth tote bag to reduce plastic usage. Both camps held nature walks to discuss being mindful of environmental practices. Furthermore, participants at the Serbian language camp held a trash pickup to remove litter from the surrounding area.
At its core, GLOW is a gender empowerment initiative. GLOW aimed to foster confidence in young girls. Perhaps the most important success that GLOW experienced was a shift in confidence related to gender. Many campers shared frustrations over limitations that they face due to their gender. Sessions were specifically geared towards helping girls discover their own potential to become leaders. Throughout the camp, girls learned about leadership, goal setting, and working with their strengths. At the end of the camp, girls were given an evaluation form to share their thoughts. Campers were asked if GLOW changed their ideas or feelings about women's lives in Kosovo. One camper wrote, "I am leaving with the idea that women are really powerful, and they need to show themselves and their true power to the world." The girls learned many lessons throughout GLOW. However, I believe learning to show their true potential to the world is by far the greatest lesson they could have learned.