Chidinma L. Ezeani Memorial Fund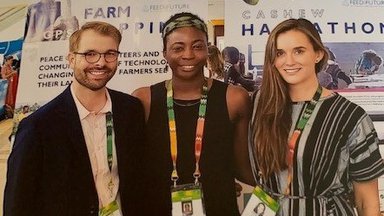 Chidinma "Chi" Lawretta Ezeani, of Palos Verdes Estates, California, was an agriculture volunteer in Ghana.
Chi entered the Peace Corps in September 2017 following a career in finance and accounting in California. Peace Corps Ghana staff said Chi was deeply committed to building the capacity of her community members to adopt farming practices that would increase food production and improve household nutrition. She worked closely with local junior high school students to establish school gardens and provide agricultural training, inspiring families to start their own gardens and seek opportunities for selling vegetables.
In an aspiration statement prior to being sworn in, Chi wrote about her desire to share her business and interpersonal skills in Ghana.
"Communication, work ethic, and flexibility are some professional attributes I would provide during my service," she wrote. "I believe understanding the local language will benefit me in gaining trust from the community. Also, I believe communication with my fellow Peace Corps volunteers and staff would make me feel comfortable in a shorter period of time."
Chi earned a bachelor's degree in accounting and finance at the University of California, Riverside in 2011. While working at the financial firm Foresight ASG in San Francisco, she was a volunteer accounting and business consultant to several not-for-profit organizations in the Bay Area. In her free time, Chi studied film at the San Francisco School of Digital Filmmaking and worked in film production.
All donations to the Chidinma L. Ezeani Fund will support approved Peace Corps Partnership Program projects in Africa.
These photos highlight the girls' school where she taught about health with an emphasis on HIV and self-esteem. She also started a latrine project for the school because before she joined them, they were using the bushes. In addition, she got the girls involved in sports – track and field and soccer.