Contributions to the Ghana Country Fund support sustainable, community-driven Peace Corps Partnership Program (PCPP) projects that are facilitated by Peace Corps Volunteers (PCVs) in their local communities. The projects focus on any of Peace Corps/Ghana's three program sectors (Health, Education and Agriculture) and draw upon local resources and skills to address the communities' needs and improve their own lives. Where local resources are inadequate to overcome critical barriers, PCVs work with their local community Counterparts to access PCPP funds through a defined grant submission and approval process.
Funds from PCPP have supported several successful projects in Ghana over the past years. Between 2017 and prior to the global evacuation of PCVs in March of 2020, PCVs in Ghana and their local communities had implemented 60 PCPP projects in various communities across the country. Key among these interventions are:
Borehole and water access projects that have provided potable water to thousands of community members, helping to prevent and reduce the incidence and prevalence of water-borne diseases.
Household latrine projects that have encouraged the increased use of latrines as opposed to the practice of open defecation. Many households that did not benefit directly from the project have constructed their own and this positive behavior change has resulted in improved sanitation in the communities.
The construction of ICT centers that have built the capacity of students and many youth in computer literacy and evidenced by the pass marks obtained in their annual Basic Education Certificate Examination.
Dry season farming/gardening projects which introduced, to community members, the adoption of irrigation practices to curb the challenges of food shortages during the dry season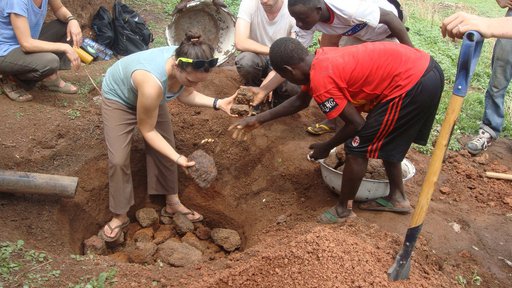 There are no Volunteer projects in Ghana at this time.