Contributions to the Cambodia Country Fund support sustainable, community-driven projects in Cambodia that address pressing needs in developing communities where Peace Corps Volunteers serve. Volunteers and their Cambodian Counterparts design projects together and seek funding through the Peace Corps Partnership Program (PCPP).
Your contribution will allow them to implement projects addressing a range of needs including water and sanitation, agricultural development and food security, educational resources, youth development, and career development.
Community members are directly involved in the design and implementation of projects, including those who attend trainings or workshops. Community members and local service providers have increased technical capacity and applied new technologies and/or practices as a result of PCPP projects.
Below are some examples of what PCPP funding can accomplish:
Water, Sanitation and Hygiene (WASH) Projects
Volunteers have used PCPP funding to improve hygiene and sanitation conditions in their communities through the construction of facilities and education on topics such as handwashing and water treatment and storage. Handwashing stations, latrines, and water filters have been built at health centers, households, and schools.
WASH projects often ensure access to a reliable water source through the construction of wells and water towers and aim to reduce the incidence of waterborne illness in communities, ultimately leading to longer, healthier lives for community members.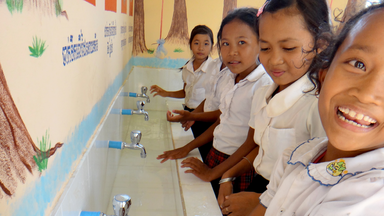 Gardens for Nutrition
Volunteers have worked with community partners to establish gardens at health centers, households, and schools to improve the dietary intake of community members. These projects aim to improve the nutrient density of meals in communities through increased access to fruits and vegetables and always include education on nutrition and the importance of a healthy diet for both children and adults.
Gardens at schools are created and maintained by students to provide an experiential learning opportunity that complements the content of their agriculture classes. Students and teachers learn organic farming practices and take vegetables home to integrate into their meals.
Home gardens are created to increase the dietary diversity of families, especially those with children under the age of five. Families are trained in organic farming practices and participate in cooking demonstrations creating nutrient dense meals using garden outputs.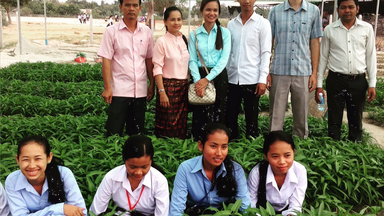 School Resource Development
Volunteers work with community partners to improve and refurbish resource centers at their schools. These projects focus on improving education through access to learning resources and incorporation of these resources into the classroom. Volunteers and their Counterparts also train teachers and school staff how they can effectively use these resources.
Resource development projects involve the acquisition of books, computers, projectors, and other learning materials. They also include renovations of classrooms and libraries to establish environments conducive to learning.
Contribute today and help our Volunteers and their Counterparts improve the health, education, and opportunities of children and adults in their communities across Cambodia!