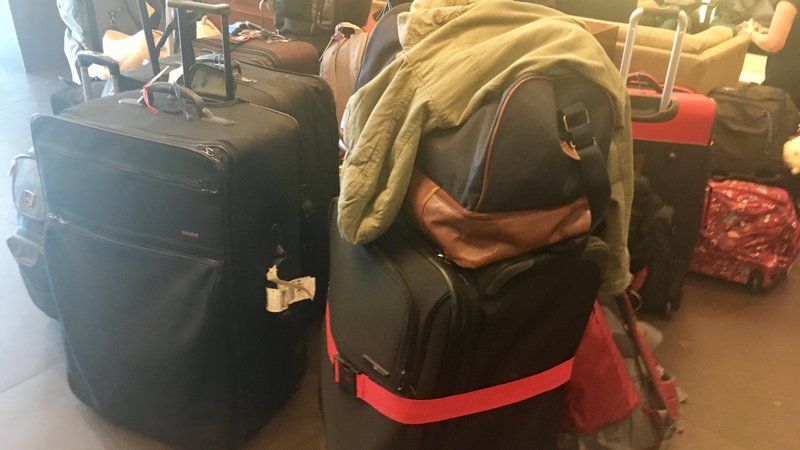 Sept. 8, 2017
These scissors are the single most useful thing I have in Armenia. I didn't bring them with me in either of my two enormous bags weighing 50lbs each, but found them in my Peace Corps medical kit. These are scissors that can cut through industrial under felt, treat plastic as though it was butter, and trim stray wisps of hair missed at the varsaviranots–the Armenian hair salon. I did pack scissors of course–a rather feeble pair that came with a home sewing kit. I haven't used the sewing kit–why would I when there is a seamstress in town who will alter, repair or make anything for a dollar a time? Not, I think, that I would have used the sewing kit anyhow. 
This is my first lesson in Peace Corps Packing: if you don't use it at home, don't bring it. You may be in a different part of the world, but you are still YOU. My own experience suggests that if you habitually run from a needle, iron, hacksaw or hand whisk, you will continue to make excuses to avoid them here. I am more duct tape than darning, and I have found my mega-roll of super-strong silver tape invaluable. It keeps a carpet in place, affixes postcards to windows, and can be used for emergency hemming. It requires no skill to deploy. 
The most useless thing I packed was a surge protector, which has tripped the electrics in both houses I have lived in here. I haven't yet encountered a storm, and so far my laptop seems happy with the $2 adapter bought here. 
My industrial-strength corkscrew was a good investment too. At the office today, we were celebrating a colleague's birthday with wine and cake when the flimsy locally-bought corkscrew snapped before the bottle became interesting. I ran home and got my Chefmate model and the celebration was saved. Armenia may be one of the oldest wine-producing countries in the world, but they haven't yet succumbed to the allure of the screw top, and local implements could leave a girl both grumpy and thirsty, a state to be avoided.
When it comes to personal maintenance, there little that can't be bought here, but often at an exorbitant cost (for one living on a Peace Corps stipend). Six months in, I am still using soap, toothpaste, deodorant and conditioner brought from home and it feels worth it to have lugged them all the way here. I have enough make-up to cover the cracks for the next two years. Another PCV from a cohort ahead of mine advised me to bring my favorite face cream, on two grounds: it is good to smell like yourself when you are in a strange place; and you are only a volunteer for two years, but your skin has to last you a lifetime. I find this to be excellent advice–thanks Alicia Easley. 
On the subject of luxury items, do find space for something beautiful from home. It will be a comfort in conditions of hardship, and it is good to have something aesthetically pleasing in what can be rather barren and ramshackle quarters. I brought a small lavender-filled pillow in dark cherry plush. I rather regret jettisoning my Indian velvet quilt in favor of a hard drive (as yet unused), yet another cardigan, and some Washington DC-themed tat rightly shunned by its Armenian recipients. The quilt would look great on my living room divan, and would provide another layer for winter. 
Bring a towel for the ones to be found here are rather scratchy and thin. I wish I'd brought a bathsheet–full coverage can be important when you are dashing from barnike to bedroom in your host family's home. I wouldn't bother with sheets–mine don't fit any Armenian bed I have ever encountered. All other household items you are likely to need can be bought here—and most ingredients. I should have been more honest with myself about my peanut butter dependency (it can be bought in Yerevan, but at vast expense) and, if you like Asian food, do invest in garam masala and sriracha. (I sent for emergency supplies.) Peace Corps say to pack a pair of dress shoes but I am not so sure. I wore mine for our swearing-in ceremony in Yerevan but otherwise they have been consigned to the back of the wardrobe because the roads and pavements here–where they exist at all–are just too pitted and dusty for fancy footwear. Go to Tigran Mets in Yerevan and shop the discount shoe stores–lots of variety at near-disposable prices. Practice the capsule wardrobe thing--lots of mix and match that will survive two years of hard knock washing and line drying. And remember: the iron is always your enemy.