Lessons on Love in an Armenian Village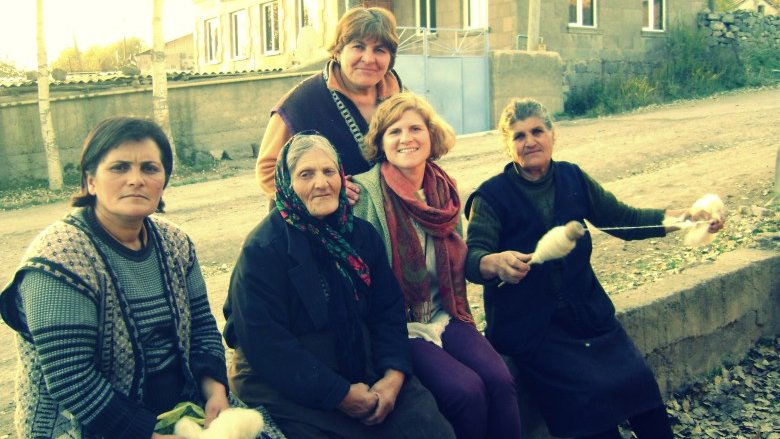 Aug. 11, 2017
The 2 years I spent living in an Armenian village has provided me with so much more than simply a broader cultural understanding and some language skills. 
After all, I came here with the intention of gaining life experience and self awareness. Day by day I am learning the meaning of patience, gratitude and the significance of traditions that bind families together. In the village, the divide between personal and private was quickly shattered, exposing the gifts of truth and compassion that are hidden just beneath the surface of the self I wish to show the world.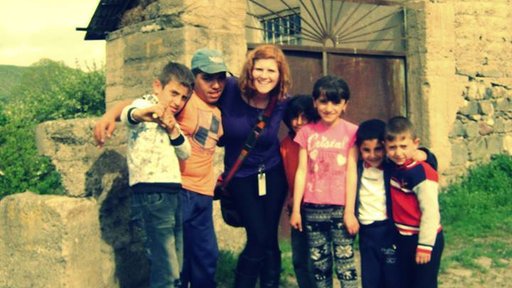 One of the first and most common questions I am asked by the women I meet in the village is "Do you have a mother and father?" I have mastered my response with strategic tact using my developing language skills. I am able give a fairly elaborate answer these days, going off on a tangent about my father to redirect the focus of this seemingly absurd question. "I have a wonderful father. I love him very much. He is a very interesting man. He loves birds, fishing and dogs. He worked as a driver. He drove a big cement truck and taxi in Chicago but now he is retired." Yes, I am proud that I can say all of that in Armenian but nevertheless I cannot avoid having to explain to them that I do not have a mother. I quickly address their incessant inquires by telling them at she died in a car accident which is really only a sliver of the truth to explain her suffering and mine. As a result the conversation gets a bit quieter and serious until someone may says something like "apsos" (pity) and I quickly change the subject to something a bit lighter.
While I have personally observed the unmistakable love and affection for children in Armenia displayed by people of all ages and genders, it is the mothers and grandmothers that draw my attention. Armenian mothers are as they say, "hogatar" which is a word to describe that particular love and care that can only come from a mother.  Once this Armenian word entered my vocabulary I realized something I had never before been able to name. I understood the significance immediately and at the same time realized that I had never actually experienced it. This previously nameless feeling was something I have been acutely aware of throughout my life. The belief that I've lacked this particular type of love in my life has been the crux of my own sense of deprivation and personal suffering. Interestingly, there really is no direct English translation for this word. It's a word that reflects the values, the culture and the way of life in Armenia.
Armenian mothers, especially in the villages, are conceivably the best mothers in the world because they start their training from a very young age. I have witnessed the preparation of motherhood beginning with a seven year old girl held responsible for cooing her infant brother. Women are wholly dedicated to their families with an ingrained sense of responsibility and often their primary purpose in life is to become a mother. They dote on their children and grandchildren and earn reverence for each new member of their family. I try to flatter the tatiks (grandmothers) by asking the number of grandchildren they have produced. Their lives are that of the reaper and sower. And like tending to their gardens they have amorously cared for their families. I imagine that in their lives after marriage they have dutifully washed, dressed, fed, scolded, taught and loved their children and their children's children. Finally, in their old age they rest on the stones along the street and take claim to a lifetime of work and dedication.
One day while chatting with some of the local women, who were braiding garlic greens for winter, I was feeling particularly confident in my ability to communicate. After spontaneously constructing a new sentence in my mind, announced to them, "You know, I grew up without a mother but I moved to Hayastan (Armenia) and now I have many mothers." Immediately after I finished speaking, I noticed tears swelled in the eyes of one of the grandmothers. I saw her response and desperately wanted to acknowledge it but found that I had no more words or clever sentences. I was speechless and touched. Finally as I eased into this place of discomfort, I realized that what I had said was the truth and it was part of my purpose in being here with these women. At that moment I knew, that by being here with them, they are helping me heal with their questions, sweetness, strength and generosity. Moments later I was gently escorted to the home of a neighbor who prepared and served me lunch as if I were her own daughter.
As I learn to recognize what is true and good, I set forth on an ever expanding path of self discovery. These timeless lessons have presented themselves again and again, in every generation until each one of us comes to appreciate the sacrifices of motherhood in our own terms. The gift of our unavoidable suffering is that we share it and it connects us to every other person in this world. No one is untouched by life's hardships. My suffering makes me human and exposing my vulnerabilities helps me receive, connect and heal. Breaking myself open to others makes me more whole.