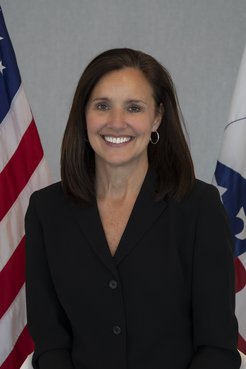 Carol Spahn
Chief Executive Officer
Carol Spahn is serving as Chief Executive Officer of the Peace Corps.
She brings more than 25 years of public and private sector experience, and has worked in countries around the world on issues ranging from small business development to infectious disease prevention and women's empowerment.
Most recently, Carol served as the Peace Corps Chief of Operations in the Africa Region covering Eastern and Southern Africa. Previously, she served a five year term as the Country Director of Peace Corps/Malawi.
Carol's Peace Corps roots extend back to her service as a Volunteer from 1994 to 1996 in Romania, where she served as a Small Business Advisor.
Before returning to the Peace Corps as Country Director, Carol was Senior Vice President of Operations at Women for Women International, an organization serving marginalized and socially excluded women in conflict affected countries. Prior to that, Carol served as Executive Director of Accordia Global Health Foundation, a non-profit focused on creating sustainable centers of excellence in health in Africa. She served as Vice-President, Chief Financial Officer, and Treasurer of Small Enterprise Assistance Funds, a nonprofit private equity fund manager that invests in small and medium sized companies in developing countries. She has also held positions at leading private sector institutions, including GE Capital and KPMG Peat Marwick.
Carol holds a bachelor's degree from the Catholic University of America and a master's degree in international development from the George Washington University Elliott School of International Affairs.
Carol Spahn printable bio [PDF]
---
U.S. government
The President of the United States appoints the Peace Corps Director and deputy director, and the appointments must be confirmed by the U.S. Senate. Read more about the past directors of the Peace Corps.
Initially established by President John F. Kennedy by Executive Order on March 1, 1961, the Peace Corps was formally authorized by the Congress on September 22, 1961, with passage of the Peace Corps Act.
The Peace Corps enjoys bipartisan support in Congress. Senators and representatives from both parties have served as Volunteers.
The Senate Committee on Foreign Relations and House Committee on Foreign Affairs are charged with general oversight of the activities and programs of the Peace Corps. The Peace Corps' annual budget is determined each year by the congressional budget and appropriations process. Funding for the Peace Corps is included in the State, Foreign Operations, and Related Programs Appropriations bill. Generally, the Peace Corps budget is about 1 percent of the foreign operations budget. The Peace Corps is continuously working to provide the highest quality support to Volunteers, particularly in the areas of health, safety, and security.
If you have questions about Peace Corps, we are happy to answer them. Get contact information for offices and support.
Contact us