Advancing Health Professionals
Building a foundation for better health care
Utilize your skills to educate emerging health care professionals and improve health care systems.
---
Jump to:
Browse current openings
---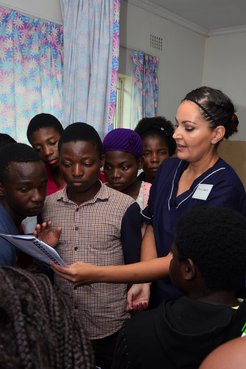 The need
In 2019, Peace Corps Response launched the Advancing Health Professionals (AHP) program. AHP aims to improve health care education and strengthen health systems on a societal level in resource-limited areas.
According to the United Nations (UN), less than half of the global population is covered by essential health services.
AHP is recruiting medical and health professionals as educators and advisors to help bridge the gap by sharing their skills and knowledge in 12-month Volunteer assignments. Volunteers are requested by host institutions in countries where the Peace Corps is active.
Our approach is aligned with the UN's Sustainable Development Goal of ensuring healthy lives and promoting well-being for all and focuses on teaching the next generation of health care professionals in fields from nursing and pharmacology to embryology and psychosocial counseling. Through non-clinical interventions, Volunteers in the AHP program teach in classroom-based settings alongside their in-country counterparts. Volunteers also focus on strengthening health systems by applying their administrative and organizational skills to promote efficiency and resiliency in care delivery. Together, they focus on the needs of the whole country, the entire health care system and larger partner organizations.
---
With AHP's health care professionals, patient care will definitely improve, reducing both the morbidity and mortality rates of the country's population."

Mandlenkosi Vilakati, Eswatini AHP Coordinator
---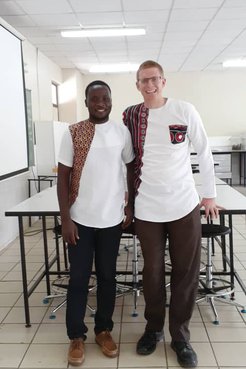 The program
Interested in being of service to the global health community?
Due to the specialized nature of the work, Volunteer positions in the AHP program often require targeted expertise and credentialing from local health care licensure authorities in country.
AHP seeks to staff non-clinical assignments with skilled Volunteers who have a background in:
Medicine
Nursing
Pharmacy
Mental health
Pre-clinical education
Health care administration
Health care services delivery
Midwifery
The AHP program has launched in five countries: Eswatini, Liberia, Malawi, Tanzania and Uganda. In the future, it may be expanded to other Peace Corps Response posts.
Response Volunteers serving in AHP will arrive in country with the necessary skills to hit the ground running. They will receive an orientation, but no specialized technical training is provided.
---
Advancing Health Professionals is a call to service...to contribute to global health through the empowerment of colleagues, capacity building of the next generation of health care leaders, and the improvement of healthcare systems with the Peace Corps."

Dallas Smith, Pharmacy & Pharmacognosy Lecturer, Malawi
---
The experience
AHP assignments are focused on either classroom education or on strengthening health systems through organizational change. Assignments have a national impact and contribute to outcomes that can benefit and be replicated by the entire country. Volunteers deliver and promote the equitable delivery of services where they are most needed.
Individuals volunteering as health care professional educators provide instruction in classroom or skills lab settings only. They focus on building the capacity of academic and training institutions, and utilize various pedagogical methods. They do not work directly with patients, nor are they involved in administering clinical research. Volunteers specializing in health system strengthening serve in capacity-building positions where they focus on improving the processes and delivery of healthcare systems in resource-limited environments.
Volunteers in the AHP program work with a variety of partners, including:
Universities
Colleges
Clinics
Non-Governmental Organizations (NGOs)
Government Departments and Ministries
Volunteers, their counterparts, and their partners greatly enhance the ability of training institutions to ensure a steady supply of confident and competent "practice-ready" graduates. These graduates are equipped to enter the health workforce and contribute to stronger health systems and the ultimate goal of comprehensive health coverage.
---
AHP Volunteers support in the training of future health workers who will, upon graduation, fill the staff shortage in the hospital and improve the quality of health services for Malawians."

Towela Nyika, AHP Coordinator, Malawi
---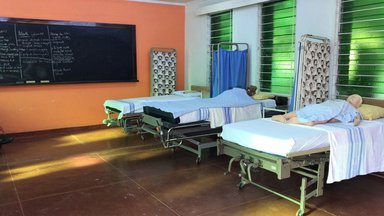 Benefits
Response Volunteers serving in AHP receive the same benefits as Peace Corps Response Volunteers. These benefits include:
Transportation to and from their country of service
Settling-in and living allowances
Two vacation days per month of service
Medical care
For those who complete their service, the option to receive cash in lieu of a return plane ticket
Readjustment allowance
Volunteers who complete 12 or more months of service within a 24-month period are eligible for the Coverdell Fellows Program and they earn non-competitive eligibility for jobs with the Peace Corps.
Application process
AHP Volunteers complete the same online application process as other Peace Corps Response Volunteers. Both the medical and legal clearance must be completed in order to serve.
Requirements
Applications must have:
U.S Citizenship
Approximately 12 months of availability
Experience working in low-resource settings
If applicable, active and valid licensing
If accepted, the Peace Corps will work with invitees to get the necessary documents for their country of service. Requirements will vary by country.
---
Take the next step!
Learn more about the application process and the AHP Volunteer experience.
Receive updates and featured openings and Volunteer stories.
We are always interested in opportunities for collaboration. Are you the Dean of a nursing school interested in promoting AHP? Are you a member of a professional network looking to learn more? If so, or if you have other ideas about how to support AHP, we would love to speak with you! Sign-up to connect with our Outreach Specialist.