Viet Nam
Training
The Peace Corps uses a competency-based training approach throughout the continuum of learning, supporting you from arrival in-country to your departure. Learn more about the Peace Corps' approach to training.
Pre-service training (PST) in-country is conducted by Peace Corps staff, most of whom are locally-hired trainers. Training covers technical, linguistic, intercultural competence, diversity, equity and inclusion, health, and safety and security topics. Additional trainings during Volunteer service include in-service training during and after the first semester at your site, mid-service training, and close-of-service conference. You will be with your Volunteer cohort for these trainings and attention will be paid to helping you also explore and honor the diversity of US Americans within your group throughout service.
Pre-Service Training
The Peace Corps uses an experiential approach to learning during pre-service training. It is based on adult learning methods that emphasize individual responsibility for developing the competencies to function independently as a Volunteer. You will live in training houses, take care of your own needs, and work either independently or in small groups to accomplish tasks that build your skill levels. Vietnamese facilitators will help you learn the necessary language and intercultural communication skills to accomplish your living and work tasks. You cannot be sworn-in to Peace Corps service until you have clearly demonstrated the attributes and skills necessary to meet the needs of your assignment. You can monitor and demonstrate your own progress through self-evaluation, consistent feedback from staff and facilitators, and participation in daily activities. Your success in this learning period requires full participation and, for some, a measure of sacrifice in terms of time and personal comfort. Investment of effort during this time will be well worth the rewards of satisfaction and well-being you will experience as a Volunteer.
The length of PST in Viet Nam is ten weeks.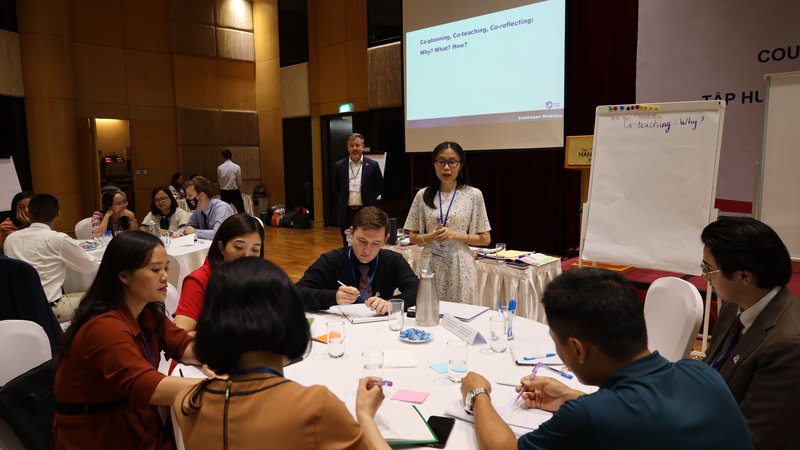 Technical Training
Technical training will prepare you to teach in Vietnamese classrooms and integrate into Vietnamese schools. You will become familiar with the goals and objectives of the Peace Corps' English Education Program, the national priorities related to foreign language instruction, and the realities of teaching in Vietnamese schools and classrooms. Peace Corps staff will conduct the training; however, Vietnamese experts and representatives from Viet Nam's Ministry of Education and Training will also participate.
During pre-service training, you will receive a thorough foundation in TEFL skills and learn about the general education and English language education environments in Viet Nam. The practice of co-teaching and working with Vietnamese counterpart teachers will be featured, so you will be expected to develop strategies for building strong relationships with your new colleagues. Volunteers will become familiar with common textbooks and will have opportunities to practice lesson planning, classroom management, and teaching skills. Additional in-service training will be provided on special topics according to needs assessments.
Throughout your service, you will be supported and evaluated in such a way as to build the confidence and skills needed to undertake your duties and activities as a Peace Corps Volunteer, report your progress, and serve as a productive member of your school and community.
Language Training
Language proficiency is at the heart of successful Peace Corps service and effective language skills are essential to your personal and professional satisfaction. Language proficiency is critical not only to your job performance, but also helps you integrate into your community, can ease your personal adaptation to the new surroundings, and supports your personal safety. As a result, language training is central to the training program and closely tied to intercultural competence, diversity, equity and inclusion training.
During pre-service training, Volunteers will participate in small-group language classes. You will be taught by a Vietnamese teacher who will use a student-centered, communicative approach to give you as much practice as possible. In addition to classroom time, you will be given assignments to work on outside of the classroom. The goal during PST is for you to develop basic communication skills so that you can manage daily activities. Prior to being sworn in as a Volunteer, your proficiency level will be assessed. Because language proficiency is critical to other aspects of community integration, all Volunteers will be expected to continue language study throughout their service and will be supported in finding a tutor at site; progress will be assessed throughout your service.
Intercultural Competence, Diversity, Equity and Inclusion Training
Peace Corps' mission of world peace and friendship is as exciting, audacious, and necessary today as it was when the agency was founded in 1961. Indeed, two of the three goals of the agency explicitly describe cross-cultural exchange.
Peace Corps' intercultural competence, diversity, equity and inclusion (ICDEI) training is designed to help you notice and adapt to the cultural complexities of your new home and may also strengthen your friendships with people who are different than you – whether they be Vietnamese neighbors and colleagues, Peace Corps staff, or other Peace Corps Volunteers.
ICDEI training invites you to reflect on aspects of your identity and cultural values to develop your understanding how these things influence your own behavior and influence how you perceive the behavior of others. Self-awareness and other-awareness are critical practices for Volunteers; they help you create bridges of mutual understanding.
The training will introduce you to the cultural diversity within Viet Nam as well as the traditional values of Vietnamese families and communities and how they relate to the country's history. We will discuss and review concepts such as "face," approaches to time, power and hierarchy, gender roles, communication styles, and familial bonds. You will have many opportunities to ask questions of staff and discuss your observations about life in Viet Nam.
Health Training
During pre-service training, you will be given basic medical training and information. You will be expected to practice preventive health care and to take responsibility for your own health by adhering to all medical policies and guidance. Trainees are required to attend all medical sessions. The topics include preventive health measures and minor and major medical issues that you might encounter while in Viet Nam. Nutrition, mental health, setting up a safe living compound, and how to avoid HIV/AIDS and other sexually transmitted infections are also covered. It will be important to be open and remain culturally sensitive as you undergo health training and suspend judgement in order to not project your cultural beliefs and values.
Safety and Security Training
During the safety training sessions, you will learn how to reduce your risks at home, at work, and during your travels by building your awareness and indirectly practicing culturally competent communications skills. You will also learn appropriate, effective strategies for coping with unwanted attention and about your individual responsibility for promoting safety throughout your service. Additionally, training will include information about how Volunteers can report to Peace Corps should they be a victim of crime.