Viet Nam
Intercultural Competency, Diversity, Equity and Inclusion
The Peace Corps seeks to reflect the rich diversity of the U.S. and bring diverse perspectives and solutions to development issues in the countries we serve. For the Peace Corps, diversity is a collection of individual attributes that together help the agency pursue organizational objectives efficiently and effectively. These include national origin, language, race, color, disability, ethnicity, gender, age, religion, sexual orientation, gender identity, socioeconomic status, veteran status, and family structures. Diversity also encompasses where people are from, where they have lived, and their differences of thought and life experiences.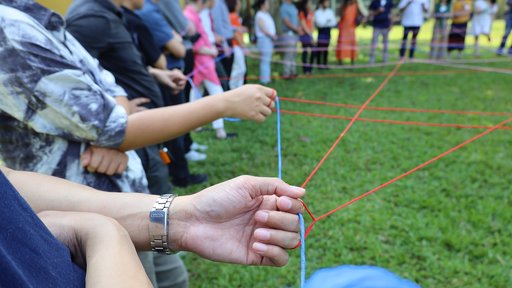 Peace Corps Viet Nam seeks to create inclusion—a culture where people are respected and appreciated, and which connects each staff member and Volunteer to the organization; encourages collaboration, flexibility, and fairness; and leverages diversity throughout the organization so that all individuals can participate and contribute to their full potential—throughout the Volunteer and staff lifecycle. Peace Corps Viet Nam leadership and staff are committed to a journey of discovery on ways to understand and proactively address biases that might be encountered related to race, skin color, intersectionality, body size and shape and more. We commit to discovering and facilitating ways for Trainees and Volunteers to be identity and body confident in the face of questioning and even challenge.
Diversity and Inclusion at Your Site
Once Volunteers arrive at their sites, diversity and inclusion principles remain the same but take on a different shape, in which your host community may share a common culture and you—the Volunteer—are the outsider. You may be in the minority, if not the sole American like you, at your site. You will begin to notice diversity in perspectives, ethnicity, age, depth of conversation, and degree of support you may receive—and may need to make adjustments in order to have better collaboration and more favorable outcomes. During pre-service training, training will be held to discuss diversity and inclusion and how you can appreciate differences, find common ground, and serve as an ally for your peers.
Cross-Cultural Considerations
The Peace Corps emphasizes professional behavior and cross-cultural sensitivity among Volunteers and within their communities to help Volunteers integrate and achieve successful service. As a Volunteer and representative of the United States, you are responsible both for sharing the diversity of U.S. culture (yours and other Americans') with your Vietnamese counterparts, and also for learning from your host country's diversity. Strive to treat others with dignity and respect at all times.
To ease the transition to life in Viet Nam, you may need to adapt to the local culture and to make some temporary, yet fundamental, compromises in how you present yourself as a U.S. American and as an individual. Seek out insights from others with different experiences, perspectives, backgrounds, and embrace unique experiences. You will need to develop techniques and personal strategies for coping with these limitations. During pre-service training, staff will provide training on how to adapt personal choices and behavior that shows alignment, awareness and respect for the host country's culture, and will be available for ongoing support.
What Might a Volunteer Face?
Gender Roles
It will be important to absorb and to attempt to understand the cultural nuances of gender roles in Viet Nam. During pre-service training, you will receive an introduction to gender awareness in-country, and will take time to examine your own thinking about gender roles and how they have impacted you. You'll then learn to analyze development projects using a gender lens to better understand gender roles in Viet Nam and your community, and how these gender roles can benefit or limit what females and males may or may not do personally and in relation to work and relationships throughout your service in Viet Nam.
As with all things, gender roles may vary region to region, community to community, and family to family. However, Volunteers in Viet Nam are likely to find that roles within the home are prescribed by gender, particularly in more traditional families and communities. For example, wives traditionally move into their husbands' homes and help keep house for his extended family. The eldest male is seen as the head of the family and is often responsible for decision-making.
Serving as a Volunteer of Color
We anticipate there will be considerable curiosity directed towards Peace Corps Volunteers of color in the communities where Volunteers will serve. As a result, comments or questions by well-meaning colleagues or Vietnamese people may feel insensitive, although their intentions may be to show interest and form friendships. Be open-minded and listen when giving constructive feedback regarding others' perception of you.
Because of limited exposure, some Vietnamese may expect all U.S. citizens and Volunteers to be White, and may be unaware of the vast racial and cultural diversity that exist in the U.S. For Volunteers, the range of responses to their skin color may vary greatly: from being mistaken for a host country national to being questioned about their U.S. citizenship, to facing behavior and language skill expectations or ridicule, or to being able to get better prices for goods and services. These instances can be turned into teachable moments for the Volunteer and the host country national. All Volunteers, including White Volunteers and those of color, should be mindful of the complex issues of race and ethnicity that are embedded in U.S. culture and within Viet Nam and strive to become allies to your fellow Volunteers. Keep in mind that Peace Corps wants every Volunteer to feel respected, valued and empowered while in service, and Volunteers of color are a vital part of building a diverse, equitable and inclusive Peace Corps experience.
Serving as Lesbian, Gay, Bisexual, Transgender, Questioning/Queer, Ally (LGBTQIA+) Volunteers
The Peace Corps actively supports Volunteers and staff of all genders, sexual orientations and identities, and encourages Volunteers to serve as allies to their fellow Volunteers in all aspects. Many countries where the Peace Corps serves have restrictive cultures with regard to sexual orientation and non-conforming gender identities, though some are more permissive. In every country, Peace Corps staff will work with Volunteers to provide them with locally informed perspectives. Some LGBTQ Volunteers have chosen to come out to community members, resulting in both positive and negative reactions, while others have come out only to select Peace Corps staff and Volunteers. Many have chosen to be discreet about their orientation and/or gender identity within their host community. LGBTQA support groups may be available in-country, providing a network to support the needs of the Peace Corps LGBTQA community. More information about serving as an LGBTQ Volunteer is available at the Lesbian, Gay, Bisexual, and Transgender Peace Corps Alumni website at lgbrpcv.org.
While there are no legal restrictions on same-sex sexual relations in Viet Nam, just as in the U.S., there will be varying degrees of tolerance and acceptance. Host community members may have limited experience with, and assumptions about, members of the LGBTQIA+ community. LGBTQIA+ youth in some communities may face discrimination and bullying. LGBTQIA+ Volunteers in Viet Nam are advised to consult with staff and spend time getting to know their host communities, in order to determine for themselves the best way to approach discussions of sexual orientation and/or gender identities.
Serving as Volunteers with Disabilities
Peace Corps staff will work with disabled Volunteers to support them in training, housing, job sites, or other areas to enable them to serve safely and effectively.
Serving as a Volunteer of Faith
According to the 2019 Viet Nam Population and Housing Census while there are 16 religions officially operating in Vietnam, 86.3% of Vietnamese report they do not adhere to a formal religion, but about that same percent participate in practices of folk religions. Aspects of Buddhism, Confucianism, and Taoism are often integrated into daily life and celebrations, and temples are common sights. Altars for ancestry worship are maintained in most homes, with offerings made twice a month – on the first and fifteenth day of a lunar month. Visiting the temples and learning about the associated rituals and holidays may help you integrate into your community.
Volunteers of faith are advised to consult with staff and spend time getting to know their host communities in order to make an informed approach to practicing a faith that will feel best for them. Regular participation in religious services may not be possible. The majority of churches in Vietnam are Catholic churches with 5.9 million persons (6.1% of the population) practicing this belief. The membership of Protestant churches is about 960.000, accounting for 1% of the total population (Viet Nam Population and Housing Census, 2019). Only a few big churches in Hanoi and Ho Chi Minh City have masses in English on Sundays. Proselytizing is strictly prohibited under Peace Corps policy.
Serving as a 50+ Volunteer
Older Volunteers may find their age an asset in Viet Nam and will often have access to individuals and insights that are not available to younger Volunteers. However, PST can be stressful for older trainees, whose lifelong learning styles and habits may or may not lend themselves to the techniques used. A 50+ individual may be the only older person in a group of Volunteers and initially may not feel part of the group. Some 50+ Volunteers may find it difficult to adapt to a lack of structure and clarity in their role after having worked for many years in a very structured and demanding job. 50+ Volunteers may also want to consider assigning power of attorney to someone in the States to deal with financial matters.
Age is well-respected in Viet Nam and elders are addressed accordingly, both at home and at work. Specific language is used to address people either older or younger than yourself. It is possible that 50+ Volunteers may find that they are among the oldest teachers in their school.