Volunteer addresses President Tallis
When Peace Corp volunteer Emma M was posted to Roromai Primary School in South East Ambrym, little did she know she was destined to make history for herself by being chosen to address the Head of State, Pastor Obed Moses Tallis on the eve of celebrating 28 years of US Peace Corps service in the country yesterday.
President Tallis and the First lady were visiting his home island with a high delegation of MPs from Malampa Province and senior officials from Lakatoro Headquarters. 
The President's program included a visit to Roromai Primary School works.
Peace Corps volunteer Emma M felt honored and excited when she heard of the President's visit to her school. The community put together a welcome ceremony which brought masses from surrounding villages.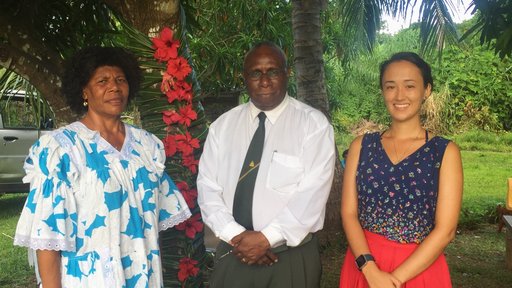 To add the cream to the cake, the community also asked her to make a presentation on behalf of Peace Corps at the ceremony.
 The Peace Corps volunteer thanked the Government of Vanuatu for allowing Peace Corps to operate in the country and for giving the opportunity to serve as volunteers in such a beautiful country. "In 1990 Peace Corps was established in Vanuatu and since then there have been approximately 800 volunteers who have devoted their skills, time and effort in supporting men, women and children of Vanuatu" she added.
She spoke of confidence to see the people of Vanuatu and the United States, continue to work together in the spirit of cooperation and friendship for the coming years. In his speech, the President applauded the work of Peace Corps in Vanuatu.
He reaffirmed the Government's commitment to support the Peace Corps initiative in the country and hopes to see more volunteers transfer their knowledge and skills to help develop the nation.