Taylor's Sewing Machine Project
In April 2018, Peace Corps Volunteer (PCV) Taylor C on the island of Emae, met with the Marae Naniu Women's Group to help fill out an International Women's Group (IWG) application form requesting for assistance with sewing machines and supplies. Fortunately, the grant was accepted and the Naniu Women's Group were awarded 5 new machines, 5 rolls of white calico, thread and scissors.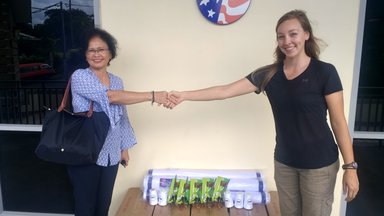 Henceforth,  Taylor met with the women from the IWG for the handing over ceremony. Shortly after, the machines arrived safely in Marae.
Currently, the Nanui Women's Group is undergoing negotiations to discuss immediate plans for the sewing machines. They have decided that all 5 machines and supplies will be stored in the Women's Cooperative. Tables and benches will be made so that the women can come into the Cooperative and sew. The idea is that the machines will only be housed in this room and not taken to individual households so as to ensure long-term safety of the machines and to promote fairness and equal use of the machines. They will also be expected to sign in and out before and after use of the machines to promote accountability.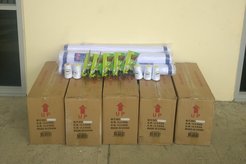 The women in Marae work together every Wednesday, thus making it the great time for the women to gather at the Cooperative and sew together while also teaching others how to sew who don't already have this knowledge and skill. 
"This project is a great way to promote income generating activities for the women in Marae while also encouraging skill-sharing and togetherness among the ladies" added Taylor.
The Naniu Women's Group is very excited about this project and the impact it will have on them and their community, and would like to extend a big thank you to everyone at the IWG for their generosity. Thank you!