I (Belinda, Program Manger - Literacy Project) had a wonderful opportunity to visit Annalisa B. at, Nofo Junior Secondary School on Emae a few weeks ago. 
A planned two day visit extended to a whole week, the most inevitable thing that would happen on Emae happened, the plane off course could not land because of the weather. But even that didn't deter my spirit, it was wonderful to see Annalisa in her element doing her thing.
The library she set up with the help of other volunteers in her group was beautiful, I remembered going into that library two years back during site identification, the library was in a chaotic state, piles and piles of books and boxes of books everywhere, 2 years later I walk into an exceptional set up, shelves organized into categories, posters, colors, paintings and a literacy resource corner. It's no wonder when I had did the school staff meeting asking if they wanted a generation 2 volunteer, they responded quickly saying that they wanted Annalisa to extend. What also took my attention was the color coded reading assessment chart that she put up on the wall. It gave a real clear picture of where each students reading levels were at and how much work teachers needed to do to assist those students who were struggling with their reading.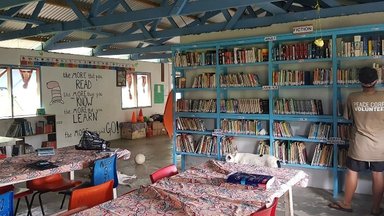 Another highlight was the solar powered water pump system funded by SPA that they had just completed. 5 taps of running water installed, to which the teachers and the students can now enjoy. 'No more wheelbarrows and buckets of water, students can now wash their hands and plates after lunch' were Annalisa's comments on some of the positive impact of this water system ever since its completion in July.  A much improved sanitation situation at school now. The project started in April and finished in July. Even though she received so much praise from me, it was quickly returned with ' Jes folem ol instructions blo komuniti nomo', 'mi no mekem bigfala wok, komuniti hemi buildim'.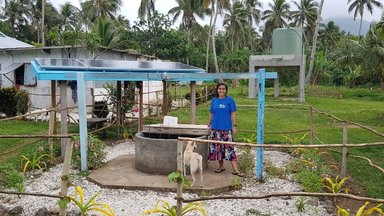 Thank you Annalisa for being proactive and productive at site, we appreciate the drive you have and commend you! I was blown away by the work that Annalisa was doing at site, it seemed to me that she was done but no. According to Annalisa, there are a few things that need help with, to what degree these 'things' are? We do not know, all I know is that she is far from done!