School Mural Encourages Literacy Both Inside and Outside The Classroom
Late in 2018, Jerry, our school's handyman, completed a concrete wall on the southern part of the school campus, complete with an iron gate with lights.
My headmaster, Moses, saw an opportunity for school beautification that could also serve as an educational tool for students, and thus, in the 2019 school year, my project began.
I really wanted the students to feel like a part of this project; it's their school, and I wanted these talented students to show what they could accomplish. Thus, I enlisted the help of both students and teachers.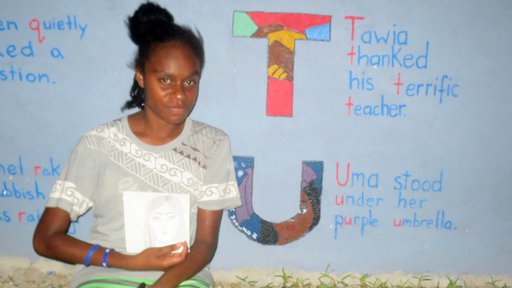 After making a rough outline of what I planned to paint on the wall, I created a drawing competition for students in classes 7 and 8. One major part of the wall is the alphabet section, which features a large letter with a picture inside and a sentence for each letter. For this section, a year 8 student and a year 7 student contributed drawings of a girl under an umbrella and a muscular mouse, respectively. A year 8 student contributed drawings of small fish for the letter F, and a year 7 student contributed two drawings, one of a duck, and one of a girl falling from a ladder.
Another part of the wall shows different ways to stay active to encourage students to understand that being fit can be fun. Three Year 7 students all contributed artwork that is featured in this section of the wall.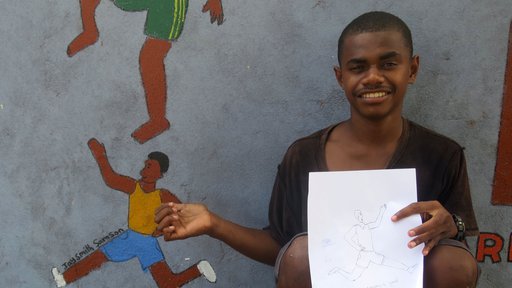 Near the entrance, the school's name is prominently featured with small artwork inside each letter depicting the various subjects and topics taught in the Vanuatu curriculum, including French and English, kastom (island traditions), Christianity, and more. Other sections of the wall include a map of Vanuatu labeled by province, as well as a map of our island with the roads and villages labeled. Numeracy is reflected with sections including geometry, time, and money, as well as a multiplication table, a cardinal and ordinal numbers table with roman numerals, and a fraction, percent and decimal table. Science and health is represented in a labeled diagram of the human body, a depiction of the three kinds of healthy kakae, a solar system diagram, and a drawing of a tropical scene with the water system labeled within it. Vanuatu history and culture is reflected in sections for the national holidays, the flag, and the local currency. Plant diagrams depicting a carrot and a corn plant reflect agricultural studies. A large section displays the different kinds of weather in Vanuatu and the months of the wet and dry seasons. Other sections include a color wheel showing primary and secondary colors and various emojis labeled with different names of emotions.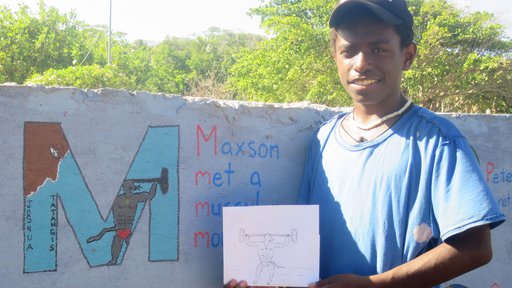 After school and on weekends, dozens of students in classes 5, 6, 7 and 8 helped me complete the mural, which at 150 centimetres tall and over 64 metres long, was no small task. The students helped draw chalk grids, paint, guard the freshly painted areas from wandering children walking along the road, and complete final paint outlines. Year 7 & 8 teacher Esther B. helped paint the wall as well as contribute ideas for the agriculture, math, and science sections, which coincidentally are the subjects she teaches. It was a massive undertaking, and I could not have done it without all of their help. Overall, the mural took nearly a month to complete.
I didn't want to exclude any students, so I decided a handprint mural was the perfect opportunity for the class 1-4 students to make their mark in a measured way. During the last couple of weeks of school, I brought groups of six students at a time to paint their hand and press it onto the Vanuatu flag. Kids giggled and grinned at the oily red goo that I brushed on their hands, one even commenting that "it felt like warm peanut butter!"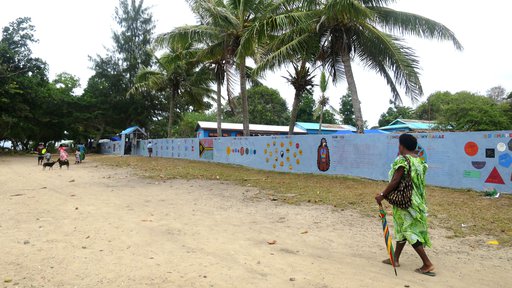 Even while school was out for the Christmas break, children and adults alike would walk past the mural on a daily basis (it's even visible by boat when you come to shore), and I would hear them discussing the geography of Nguna, or adding fractions, or pointing out the different kinds of healthy kakae, or identifying the body parts, or reading, "Sabrina scrubs a shiny seashell." I couldn't have imagined how a mere 7000vt ($70 USD) in paint costs could make such an impact on a community.