Port Narvin Primary School on Erromango gets access to Clean Energy
The island of Erromango is blessed to have an awesome Peace Corps Volunteer like Frances who has worked so hard on her Peace Corps Partnership Program (PCPP) project along with project chairperson Sarah Nabil.
Tuesday, 27 November marked the opening of her project and it was certainly wonderful to see the results. PCPP funds paid for 4 solar panels, regulator, battery, laptops, lights, cables, tablets, printer, speaker and shipping costs. The laptops, tablets, speaker and printer are in the school office and are already raising money because community members pay a fee to charge their devices.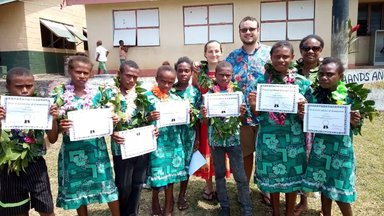 Thanks to Frances's PCPP project, Port Narvin Primary School now has clean energy to power lights and charge devices. The classrooms now have access to lighting so during dark rainy days, students still have the ability to read and write. The teacher's office and library have working solar lights installed and so the school staff will now reduce their use of the benzene-run generator which is very costly and emits harmful gases to the environment.
Teachers will now learn how to use new technology to develop lesson plans and therefore be able to improve classroom management. Together the staff will develop rules for the use, maintenance and storage of the newly installed system.
The Class 6 certificates were printed in color and looked very professional as they were handed out during the graduation ceremony. The community members now have the opportunity to learn basic computer and tablet skills.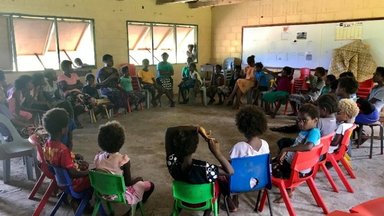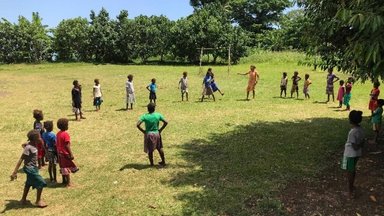 The accomplishment of Frances' PCPP Solar project coupled with the new classrooms has brought a lot of joy to the people of Port Narvin. Two women gave very inspirational speeches at the project opening calling upon the people of Port Narvin to appreciate the hard work invested into the project and to take good care of it so that it can last for many generations. In her speech project chairperson Serah Nabil likened the Project to a 'laplap' which involves a lot of hard work and requires many different ingredients. The end product is a delicious laplap which families can gather around and enjoy! Well done to Peace Corps Volunteer Frances L. and Serah Nabil!

Frances also organized a Careers days for girls and Mamas and there was teacher presence and fun kids activities with Rossana. It was a fun filled day.