North Efate Trash Project Extended to Epau Village
Last year, Peace Corps Volunteer (PCV) Adam in Siviri, North Efate worked with Pango Green Force (PGF), a non-profit trash removal company, to start waste removal for his community. After many awarenesses and months of work Siviri was able to kick of their trash collection!
Today PCV Corley is happy to share that her village on Epau is now the second village in North Efate to engage with PGF to reduce litter and carry waste out from their village to the Efate Landfill.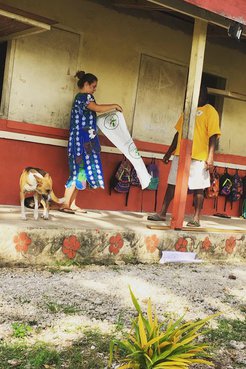 Corley began awarenesses with her community on Epau in October 2018. Later in May 2019 they finally finished building raised beds for the trash. Once all the trash beds were completed she made two more awarenesses in the Nakamal during Epau's weekly meetings, and they decided which community members would sell/distribute plastic trash bags to everyone else in the village.
The final launch on May 20th brought community members to the school field and as a group they went through the details of the project such as what can go into the bags, how to fasten them etc. They started selling the bags immediately, and were completely out within 30 minutes! Families were buying 3-10 bags at a time so they could remove their "dirty piles" from behind their house! However, once the plastic bags sold out, people were disappointed. So they purchased more the next day but some of the enthusiasm had faded. "This was an important learning moment for me as a volunteer because I had explained this project as a community cleanup initiative, and my counterpart the Area Secretary Council man had too" said Corley.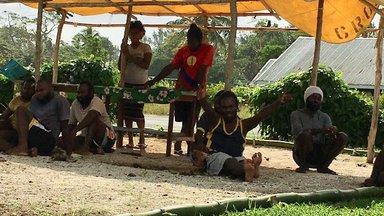 "What we failed to explain was the small behavior change aspect. We needed to be clear that there was no longer a need for a dirty pile; that hanging the plastic bag in the kitchen somewhere and filling it up slowly over time is an easy solution to litter. When the bag is full, fasten it tight and put it on the raised bed closest to you!" added Corley. After another awareness during a Monday community meeting they answered more questions, and got started!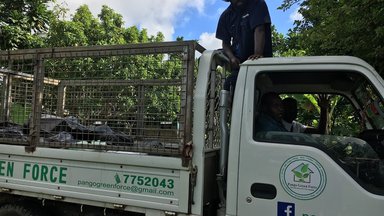 The first trash truck came May 21st, and picked up bags from every family compound! The community was excited to see the truck and some kids were taking selfies on the raised beds! From here on out, the bags are 200vt, some of which goes to the chief's councils' savings account and trash is collected about once a month! "I am so proud of my community for trying this out and am looking forward to monitoring further progress. We know that behavior change is a slow process and I imagine this project is far from over, but I am definitely celebrating these first steps" said Corley with a smile! Corley's next challenge is to develop community compost stations!