As health volunteers in Vanuatu, it's not always easy to determine what our role in the communities we serve are but let me show you a picture of the state of health in the Pacific and particularly, Vanuatu.
Non-communicable diseases (NCDs) are chronic diseases, tend to be of long duration and are the result of a combination of genetic, physiological, environmental and behaviors factors. They include cardiovascular diseases, e.g. high blood pressure and heart attack, to cancers, chronic respiratory diseases such as asthma and COPD, and diabetes. NCDs have become a challenging issue not just affecting health and developed nations but is on the rise as an international epidemic, especially hitting hard the developing world and lower-income populations. The Pacific region, which is only home to a quarter of the world's population and includes Vanuatu, houses some of the highest rates of an overweight population, from more than 50% to as high as 90% of the population. In the Pacific it is responsible for 80% of all deaths and 40% of the population has been diagnosed with NCDs. In Vanuatu specifically, it accounts for 70% of all deaths and cardiovascular diseases accounts for over 1/3 of all total death of all ages. In a study done in 2013, only 5% of adult females and 10% of adult males were free of any of the preventable risk factors for acquiring NCDs.
Atchin is a community comprised of over 20 villages with a population of over 2,000 peoples. In relation to the country statistics for NCDs, Atchin is relatively low but as my counterpart pointed out, its most likely due to undiagnosed cases because of lack of screening. Back in 2017, we began a new screening program for NCD as part of our community outreach, which already had a strong childhood vaccination program. My counterpart, who is the area nurse, along with my nurse aid and nurse practitioner and I, we would rotate every week where our screening was held and a few times, sessions were held on market days. This was successful in that we were able to promote awareness as well as encouraged anyone to stop by during clinic hours for a free screening and consultation which included a blood pressure check, BMI calculations, blood sugar, waist measurements and health education.
The club would not be successful without them and without the support and knowledge of my nurse aid and principal. These women understand the price of NCDs and the importance of maintaining their health.

Nhia
On the side, I was doing exercise off and on, sometimes by myself and sometimes with my host siblings and sometimes with children from my village. Exercise has so many benefits and it was something that could be started, sustained and shared. In early January of 2019, I felt confident enough in my relationship with my community that I decided it was time to start an exercise program. The exercise club was opened to anyone, children, women and men, young and old. With enthusiasm and support from all of my colleagues at the clinic, we started running it twice a week in the afternoons on the clinic grounds. It started out with only 3 of us and then through a different collaboration with one of my French primary schools, the principal heard about it. She approached me and wanted to bring her class to participate as part of their sports program. We grew from there, and she along with my staff began encouraging anyone and everyone to join – people walking on the road, family members, and even the truck drivers! A few men attended but it grew to be mostly woman, mamas from the nearby villages, young and old and children. I was so surprised but extremely humbled by the support, enthusiasm and strength of all these women.
Every session includes a warm-up, a light jog or run, stretching, some HIIT (high intensity interval training) activity and then cooldown and lasts for 30 minutes or so. I started out leading the sessions but eventually started having my principal and nurse aid do all the stretching sessions. Anytime I wasn't available, the two of them were in charge of leading sessions. They were two of the best supporters I could have asked for – without them, each session wouldn't be as successful as they helped me navigate the cultural differences and cultural appropriateness of everything we did, while also being my ambassadors for the importance of exercise.
We also took attendance and would weigh everyone during each session to keep track of weight loss. We would also always end on me talking about the importance of exercise, healthy nutrition and an overall assessment asking how everyone felt before and after exercise. After a few sessions, I no longer needed to do the talking as my mamas began educating one another and new attendees! It was great, sitting there watching and realizing how much they truly grasped the information I had given and how much they believed in and supported it.
Word got around and around May, so many mamas and children were making the trip from the small island that my nurse aid and I decided we would be the ones to make the more or less 1.25km trip twice a week instead to the small neighboring island of Atchin. At their request, sessions also increased to three times a week. As of current, we usually have anywhere from 15 to 30 mamas in attendance, with anywhere from 20 to 40 kids each session. We've also added new activities like Zumba, and boxing and martial arts drills.
The program evolved into a sort of club and I didn't realize it at first, but became an outlet for all the mamas to connect with one another, sweat together and especially, have fun. The best parts have been watching the growth of each one. It used to be that my mamas would get embarrassed when people came by, but now they continue with the exercises and call out for these same people to join us. They also remark about how people can think what they want, but they care about their health and want to do something about it. When I get tied up, they start sessions without me. They encourage one another and they call each other out when efforts aren't made enough or 'that wasn't a sit-up, do it again!' or 'you were late, so 10 push-ups!' A few mamas have already had some weight loss too and are using exercise as part of their regiment to maintain their NCD.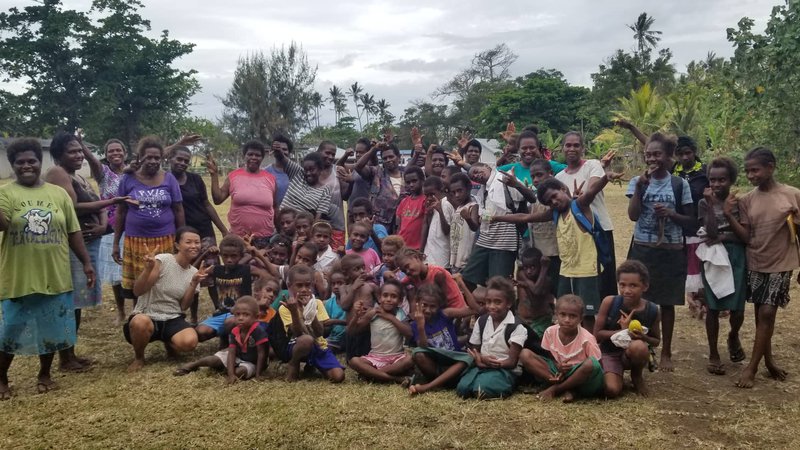 It's still mostly mamas but the papas encourage us and have reported to me how so-and-so has been more energetic and not as sick lately since they started exercising. Occasionally my nurse who is a male also joins us. I of course, never give up on encouraging the papas to join us.
It has been so empowering and I have learned so much from each and every single one of these women and children. I cannot express how proud I am of every single one of them. The club would not be successful without them and without the support and knowledge of my nurse aid and principal. These women understand the price of NCDs and the importance of maintaining their health. Before the introduction of processed food, people here in Vanuatu ate local food and worked their gardens. Now, its so easy to eat and feed that most times, it matters not if it is nutritious. Additionally, a vicious cycle is created by the epidemic of non-communicable diseases, whereby NCDs and their risk factors worsen poverty, while poverty results in rising rates of NCDs.
Hopefully, when I am out next year, they will continue these workout sessions together and continue to make healthy eating and exercise as part of their daily schedule so bits and pieces of this cycle will start breaking away. On the islands, there are limited resources but the creativity of those who live here knows no bounds and each person is beginning to understand more and more how their lives are changing because of development and that, ultimately, they cannot wait for the government or some NGO to come and ease those changes. What I hope has been shared mutually between us, are the skills learned and the power to make small changes that can eventually have a huge impact on life and quality of life. Thank you, ol mama blong eksesaes club blong yumi!