This month we are spotlighting Group 29's Literacy Guru, Eve.  Eve is a literacy co-teacher at Sarakata Primary and Centre School in Luganville, Santo.
Eve has earned this title because of her experience, knowledge and expertise in co-teaching literacy, and because of the amount of appreciation and positive feedback that we have received from her school.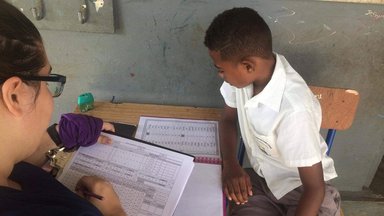 Eve spent the majority of her time working directly with students who are struggling with their English language development. When she first arrived at site, Eve put together a new literacy assessment using a combination of the Peace Corps provided assessment and her past teaching materials. At the beginning of each term, she would assess the students in classes three through six and, after sharing the process and results with the teachers at her school, would create a pull out group schedule based on the level of the students in each class.
Eve has created a number of materials to aid the teachers and students in improving the English literacy level at Sarakata School. One of the tools she has implemented is a new high-frequency/sight word program. After creating a new word list using a combination of Dolch Sight Words and Fry Instant Words, all of the students in her pull out program received a booklet of the words split into levels and sets, which they practice reading and using in class and at home. At the end of each week, the students try to read the words from one new set. After mastering a whole level, the students earn a reward. The program has been successful at motivating the students to learn new words, and it will hopefully be implemented with all of class three in the 2019 school year.
Eve has also been working with the class two and three teachers to create a Bislama to English transition book for struggling students. Based on literacy assessment results, Eve and the teachers at her school noticed a trend with students who began to fall behind after switching to English only education in class three and four. This new transition book aims to help those students before it becomes a bigger issue for them in the upper primary years. A simple version of this book was given to class two students at the end of 2018 and Eve is hoping to continue to work with the teachers at Sarakata School to create a more comprehensive program.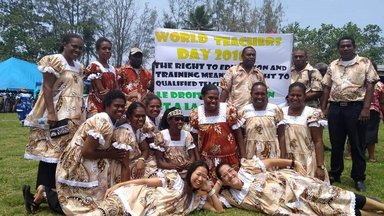 We are so proud of the amount of work Eve has put into helping her students and teachers in literacy at Sarakata. It has been tremendous and we commend her for the time, the patience, the creativity, the interventions and materials she has developed with her counterpart. Group 30, please find the opportunity to pick her brains if ever the opportunity arises before she closes her service. Sarakata Centre School has been beyond blessed to have had Eve join their team. Tankiu Eve lo gudfala wok blo you (Thank you Eve for your good work).