Charlie's Library & Computer Lab Project
Peace Corps Volunteer, Charles G arrived on the hilltop blustery village of Eratap on April of 2017. Charles is a third generation, English Literacy volunteer assigned to work at Eratap Primary School. His two predecessors, Dawna H and Elyse R had served the community of Eratap since 2011.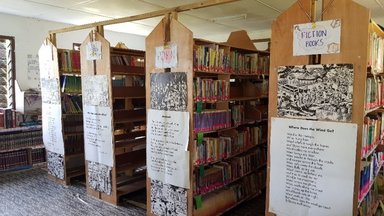 The village of Eratap is lucky enough to have regular school supplies donated by tourists from nearby local resorts. Unfortunately, when Charles arrived at the school, all the supplies had been building up in boxes in a storage room for the past two years and had not been used by the teachers or students. These supplies included school stationery, mounds of different kinds of books, notebooks, paper and many more. They were also able to find flip flops, combs, tooth brushes, bouncy balls, painting supplies and cards amongst the supplies.
Before the new school year had begun, Charles and the school librarian finally decided to tackle the project of making the supplies useful to the school. The supplies had erected to the point where no one wanted to open any of the boxes because the whole pile might fall over. Together they went through the boxes one at a time and organized the supplies. Eventually, with all the supplies out of the boxes and easily accessible, teachers and students have now been able to use them on a daily basis.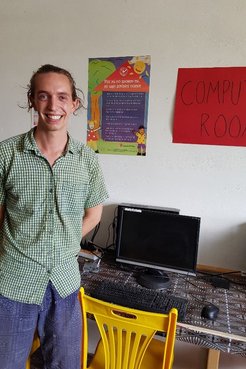 Charles also set out on a quest in making the school library fully functional. The Eratap Primary School Library was officially opened by PCV Elyse R. The library has lots of books, however over half of the books were unorganized and the librarian was still setting up a cataloguing system. Charles assisted the librarian by typing up the catalogue of books, shelving and categorizing them. He also set up a library schedule for every class to visit the library every week, which was a totally new initiative. He feels rewarded and encouraged when he sees students voluntarily coming in to read during breaks.
In December last year, Charles was able to find a local business that donated three computers for the school. The computers were equipped with grade keeping and organizational tools for teachers as well as educational games for students. Charles then managed to convert the storage room, once used for storing donated supplies, into a working computer lab. He now uses the computer lab to run weekly/biweekly computer workshops for teachers to develop skills with using computers independently. He also introduced ways the computers can be used to enhance lessons, motive students and broaden teachers' skills with typing, excel, solar spel and other educational resources.

Thank you Charles for your commitment and effort in supporting the teachers and students of Eratap Primary School. For that we salute you and wish you the best of luck in the remaining months to come at your site!