Music, Dance and Drama raising awareness about Malaria
After attending the Malaria Bootcamp in Tororo District run by Peace Corps Health Volunteers, my whole understanding of our role as Peace Corps Volunteers changed. I left the camp motivated to incorporate malaria related activities at my school and got to work in early April. 
No longer was I here to promote literacy alone, I also had a new purpose and obligation to spread knowledge about malaria to my students and to the community. To begin, we held two workshops- one with College staff and one with students- explaining what the bootcamp was about and relaying the new information I had gained to each audience. I used big books to teach content while simultaneously demonstrating how malaria activities can be incorporated with the promotion of literacy too. Both classes went well. For the students, I also prefaced the lesson with the notion that we will put on a Malaria Performing Arts show and that they should incorporate this information into various songs, poems and dramas.
In the second week of April, we began meeting in the evenings with interested Year 1 and Year 2 students. My counterpart and I worked with the MDD (Music, Dance and Drama) Tutor to coordinate groups and guide students as they developed their performances. After an hour or two of practicing in smaller groups, they would rehearse for the whole group and we critiqued the work, seeing improvement each night. In the mornings and afternoons I was also coordinating logistics with primary schools in the Tororo region. This task included determining when we could come and perform, arranging transport, food etc.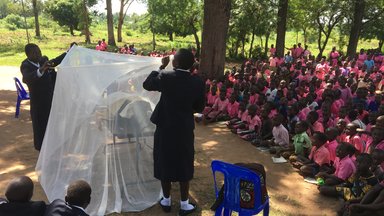 On April 19, we took a group of 25 students to two schools. We had developed a program featuring four songs, two poems and a drama about the dangers, causes, treatment and prevention of malaria. The pupils and staff members of each school were very grateful and appreciative of our work.  Our dedication and the "unique style" of presenting the information were very much appreciated.
On April 21, we took a different group of 31 students to perform at three other schools, and on April 26 we went to the last primary school. In reflection, the traveling Performing Arts Show on Malaria was much more effective than any lesson using a chalkboard because it communicated the message through song, dance and drama- mediums that are fun, interactive and directly relatable to the pupils of Tororo. At the conclusion of each show, one of our students led a question and answer session to review the content we had just presented. After conducting the Barrier Analysis and making plans for a mural broadcasting the dangers of malaria next term, I am motivated to continue spreading the message throughout my time here as a Peace Corps Volunteer (PCV).
This whole experience can be considered a success because it truly felt like we were changing lives. I remember performances that came to our school when I was as early as seven years old.
I believe the shows we had with our students will be something those pupils will remember for a long time, and potentially for their whole lives. The PCVs at primary schools have told me their students sing the malaria songs now, they have been incorporated into their lexicon. We sensitized over 5000 pupils on the dangers, prevention and treatment of malaria! It is something to build on for the future.