Uganda Celebrates 9th Annual Drop Everything & Read Day (D.E.A.R.) 2023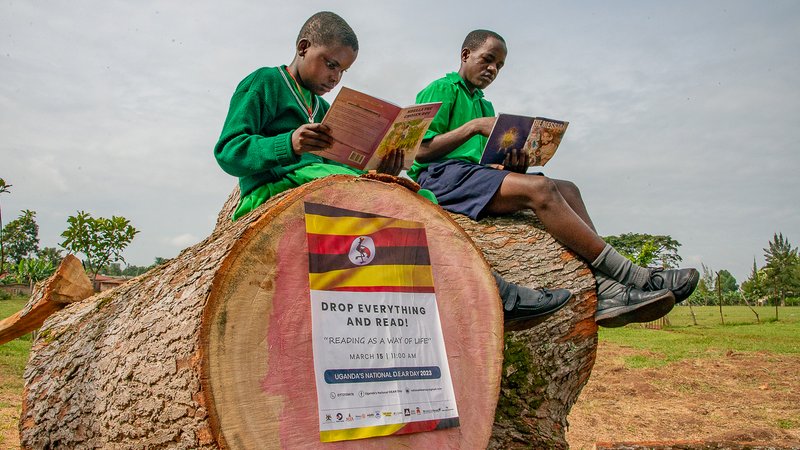 March 31, 2023
On March 15th, 2023, Uganda celebrated its 9th National Drop Everything and Read (D.E.A.R.) Day.
Uganda's National D.E.A.R. Day 2023
This year, the theme was "Reading As a Way of Life". For the 9th year in a row, children and adults across Uganda took part in a national, collective reading effort. They dropped everything and read at 11:00am. One of the highlights from this year's D.E.A.R. Day commemoration was the participation of Peace Corps Volunteers (PCVs) who had been absent for the past few years due to the COVID pandemic. You can read their experiences with DEAR Day here.
Peace Corps Education Volunteers
With the return of Volunteers in 2022, Uganda has 34 Volunteers, ten of whom are in the Education sector. Education Volunteers live in the northern, central, and western regions of Uganda. Peace Corps Education Volunteers support teachers to increase their knowledge and application of effective early childhood literacy techniques, assess learners' reading levels using the Early Grade Reading Assessment tool, and develop materials and resources that teachers can use to provide high-quality literacy instruction. Education Volunteers also support parental engagement as well as strengthening school libraries.
The National D.E.A.R. Day Celebration
This year's national celebration was held at St. Mugagga Nkozi Primary School. The U.S. Ambassador to Uganda, Natalie Brown, was the guest reader at the National celebrations. The event was well covered in the press and was even in the local news. She spoke about her own childhood experience and showed the children an atlas that was given to her as a child. She described the atlas as her doorway to the world outside her home state of Nebraska and in fact as the entry point to her distinguished career in diplomacy.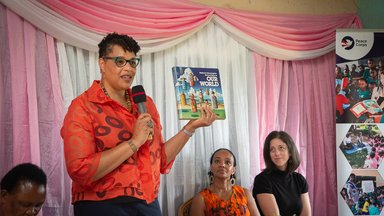 ---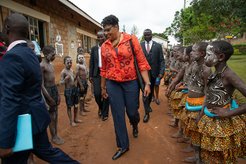 Children's performances
The children performed two traditional dances to welcome Ambassador Brown to their school. The school children presented a poem, a book, and sang Ugandan and East African anthems. The event was further enriched by the presence of hearing-impaired children from a nearby school who performed a book. This was a testament to the importance of inclusivity in education and the continuous need to ensure that learners of all abilities are included.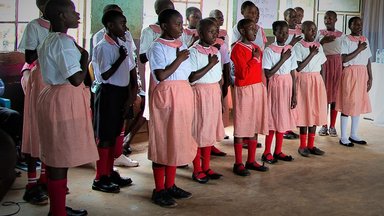 ---
Book Donation
To support and encourage reading at St. Mugaga Nkozi Primary School, Peace Corps Uganda donated 400 books suitable to a variety of ages. The books were written by local authors, published locally, and contained culturally appropriate content. These books will be a valuable addition to the reading materials at the school and will support early reading efforts.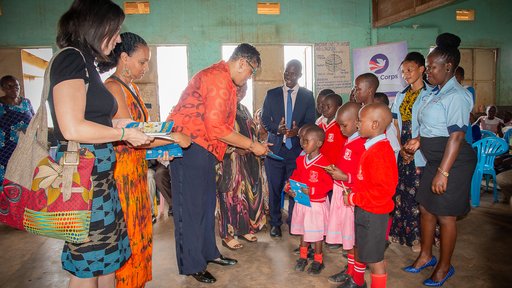 ---
Partnerships to increase access to books
Peace Corps Uganda works with many partners to increase access to reading materials and put books in the hands of learners. Partners include the Ministry of Education and many other partners, each with something unique to add to this space. Some highlights of our partners' activities for DEAR Day include:
Deaf Link Uganda visited Mulago School for the Deaf to read with hearing impaired children.
Oasis Book Project worked with Rotary Uganda to hold a D.E.A.R. week from March13th – 17th in Mukono district, where they held reading competitions and donated books.
Knowledge for Children helped mobilize several schools in the Masaka sub-region to participate in D.E.A.R. Day.
Read For Life ran several radio programs to read books and stories to listeners in Gulu City.
Pangea Education visited a local school, where they read to the pupils and donated readers to the school library.
Aadi Enterprises in Fort Portal set up a book point at their business premises and invited pupils from a nearby primary school to come and read there.
Paul Tinka, a Parish Chief and Development Worker mobilized both primary and secondary schools in the Busoga sub-region to participate in the reading event.
Enjuba Spelling Bee ran a book donation drive, making appeals to the public to donate books towards a school library that has previously hosted Peace Corps Volunteers.
Cathy Kreutter of the Old Mzee Books mobilized schools in Kampala, Wakiso and Nakasongola Districts to participate in D.E.A.R. Day.
Annette, through the Reading Association of Uganda, mobilized schools in the Ankole sub-region to celebrate D.E.A.R. Day.
Kampala Capital City Authority celebrated D.E.A.R. week during the week of 27th – 31st March, which included guest readers book donations.